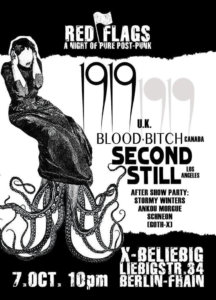 Am 7. Oktober gab es im Berliner XB Liebig im Rahmen der neuen Postpunk-Veranstaltungsreihe RED FLAGS ein Underground-Konzert erster Güte.
In einem der letzten besetzten Häuser Berlins gaben sich 3 Postpunk-Bands ein Stelldichein, und das Publikum erschien zahlreich.
Den Anfang machten BLOOD BITCH aus dem kanadischen Edmonton (Alberta). Das Duo verknüpft elektronische Sounds mit Gitarre und Bass und gab im leider fast überhaupt nicht beleuchteten Teil des Raums (eine Bühne im eigentlichen Sinn gab es nicht) eine gelungene Vorstellung.
Es folgten SECOND STILL aus Los Angeles. Die dreiköpfige junge Band spielt Gothicrock amerikanischer Prägung,der mich teilweise an manch ältere Faith and the Muse-Stücke erinnert. Tolle Musik und eine charismatische Sängerin – klasse!
Headliner des Abends waren 1919, die ich nun schon zum vierten mal sehen konnte. Wie schon zuvor gab es eine energiegeladene Show, und als Highlight wurde bei der Zugabe "Alien" der Text ein wenig angepasst – statt "Alien don't come in here…" hieß es nun "AfD don't come in here". Tolle Idee, die auch gut ankam. Die Band nur empfohlen werden.
Es folgte noch Musik von CD mit einer sehr schicken Auswahl von Underground und weniger oft gehörten Sachen aus dem Postpunk-Lager.
Einziger Wermutstropfen war die Beleuchtung. Daher gibt es auch diesmal keine Videos…
Fazit: Der Underground lebt! Zumindest, so lange es noch derartige Vernstaltungsorte und Promoter gibt, die ein solches Lineup ermöglichen. Es darf mit Spannung erwartet werden, was RED FLAGS demnächst auf die Beine stellen werden!
Fotos