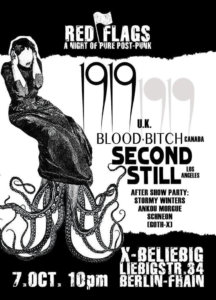 On 7 October a top notch underground gig took place in Berlin's XB Liebig for the inaugurative night of the Post Punk event series RED FLAGS.
In one of Berlin's last remaining squats 3 Post Punk bands shared the stage, and the audience came in good numbers.
BLOOD BITCH from Edmonton (Alberta) in Canada came on first. The duo combines electronic sounds with bass and guitar, and they did a great show in the unfortunately very ill-lit part of the room (a stage as such wasn't there).
They were followed by SECOND STILL from Los Angeles. The young three-piece band plays Gothic Rock in the American style and remind me of some older stuff by Faith and the Muse. Great music and a charismatic singer – brilliant!
The night's headliner were 1919 who I saw for the fourth time now. Just as before they played a high-energy show, and as a special highlight the lyrics of the encore "Alien" was changed for Germany from "Alien don't come in here…" to "AfD don't come in here".Great idea which went down well with the crowd. This band can only be recommended.
The after-show night featured great tunes from CD – underground stuff and Post Punk tracks that haven't been played too often.
The only downside was the absence of pretty much any stage lighting, so this time I didn't take videos…
Conclusion: The underground is alive! At least as long as there are event locations like this and promoters who make lineups like tonight's possible. I'm anticipating what RED FLAGS will put on in the future!
Photos