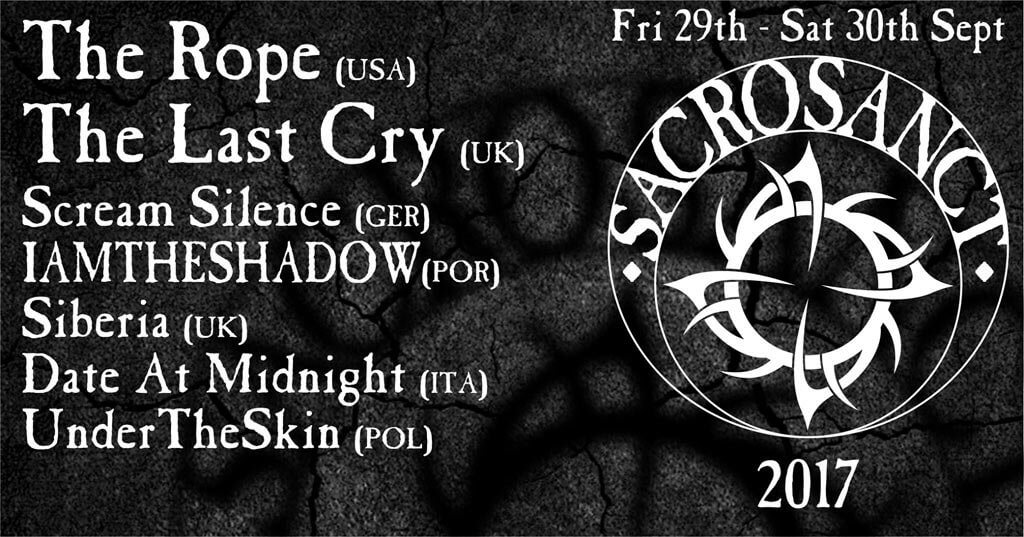 For the fifth time since the resurrection of the festival in 2013, the SACROSANCT took place on 29 and 30 September 2017 in Reading, about 50 km west of London. And just like in the previous years it offered an interesting lineup with excellent bands from various countries.
FRIDAY, 29 SEPTEMBER
The first band on the bill was the "host band" SIBERIA. After their first gig at the Gotham Sounds Festival, singer Matt was clearly less nervous this time, and that improved the show's quality significantly. Beautiful UK Goth by friendly musicians – top!
Second band were THE LAST CRY who are well known from previous SACROSANCT editions. And they proved once again what a great live band they are. Why they haven't yet played at big festivals like WGT is beyond me…
The evening was completed by music from CDs at the NOSTALGIA club night with DJs Martin Oldgoth and Dave Exile. Top tunes, but my cold and the fact that I got rather tired after being on my feet for about 20 hours made be go back to the hotel soon.
SATURDAY, 30 SEPTEMBER
Saturday started a little earlier. Shortly afer 6 p.m. UDERTHESKIN entered the stage. The trio from Poland, just like SIBERIA, has played at this year's Gotham Sounds Festival, and style-wise their closest relatives might be bands like The Soft Moon. Great powerful Post Punk from the younger genereation.
Band number 2were DATE AT MIDNIGHT. The Italians from Rome are one more proof that Goth Rock is far from dead in Italy. Among the many young bands from the land of pasta this band certainly holds one of the top spots.
The middle was held by IAMTHESHADOW from Portugal. Quite Darkwave-y in their sound, they are a tip for everyone who likes bands like She Past Away. One highlight of their show was a very good cover of The Sound's "Winning".
Next band were the Berliners of SCREAM SILENCE. Obviously the Brits love German Goth Rock bands a lot, because the audience was going for it like the band were some kind of superstars. This made them deliver a brilliant set, much better than when I last saw them in Hannover back in 2007.
Afterwards it was already time for the last band of the festival and for my personal highlight. THE ROPE from Minneapolis did their Europe debut! The band had been on my personal Top 15 for almost 2 years, and on heavy rotation as well. But live they could even top it up. What a show! And a great Chameleons cover ("Less than Human") – that's how it should be.
After the bands DJ Ben made people dance (and sweat), and only too soon another great festival came to an end…
Conclusion: SACROSANCT is a prime example of what is possible in DIY. And so I'm already looking forward to SACROSANCT 2018!
Photos
Video Playlist (20 videos):