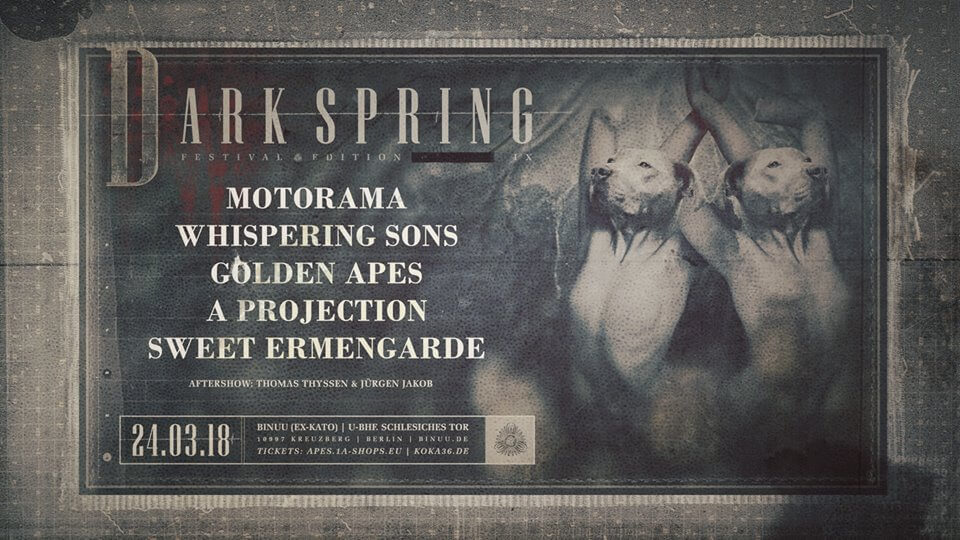 Am 24. März 2018 fand das DARK SPRING FESTIVAL in Berlin in seiner neunten Ausgabe statt. Wie schon in den Jahren zuvor präsentierten die GOLDEN APES als Gastgeber hochkarätige Bands und beweisen damit, dass es beileibe keinen Mangel an guten Musikern gibt.
Der Abend wurde eröffnet von SWEET ERMENGARDE, der Gothrock-Vorzeigeband aus dem Ruhrgebiet. Eine gewisse Sound-Verwandtschaft zu den Fields of the Nephilim ist sicher nicht ganz von der Hand zu weisen, über bloßes Kopieren geht es aber doch deutlich hinaus. Die Band präsentierte einmal mehr ein gelungenes Set und war ein würdiger Auftakt.
Band Nummer 2 waren A PROJECTION aus Schweden. Nach einigen Umbesetzungen im Lineup der Band scheint nun eine Besetzung gefunden worden zu sein, die funktioniert. Denn die Show war energiegeladen und der Funke sprang aufs Publikum über.
Es folgten die GOLDEN APES, inzwischen wohl eine meiner meistgesehenen Bands. Wieder einmal stellten die Berliner unter Beweis, dass tolle Melodien gepaart mit einem soliden Schuss Melancholie nicht nur in den 80ern funktioniert haben – und das, ohne dass der Sound angestaubt wirkt.
Vorletzte Band des Abends waren die WHISPERING SONS. Das Quintett aus Belgien wird momentan ja ziemlich gehypt, allerdings ist es einer der seltenen Fälle, in denen dies mit Recht geschieht. Momentan sind sie meiner Meinung nach eine der besten Bands überhaupt. Das Set bestand knapp zur Hälfte aus neuen Songs, die schon jetzt Appetit auf das hoffentlich im Herbst erscheinende neue Album machen.
Den Abschluss des Konzertabends übernahmen MOTORAMA. Das Trio aus Moskau mag zwar auf der Bühne etwas ruhiger sein als die Whispering Sons, aber das macht sie keineswegs langweilig. Schöner Postpunk-Sound im Stil von Band wie Orange Juice mit diversen Tauschaktion von Bass und Gitarre kamen auch beim Publikum gut an.
Nach den Bands folgte noch eine gelungene Tanznacht mit den DJs Thomas Thyssen, Jakob sowie als Gast LVEX aus Malta.
Fazit: Ein rundum gelungenes Festival im Bi Nuu, und herzlichen Glückwunsch an die Veranstalter, dass es zum ersten Mal ausverkauft war. Ich freue mich auf das 10. DARK SPRING im März 2019!
Fotos
Video-Playlist (11 Videos):