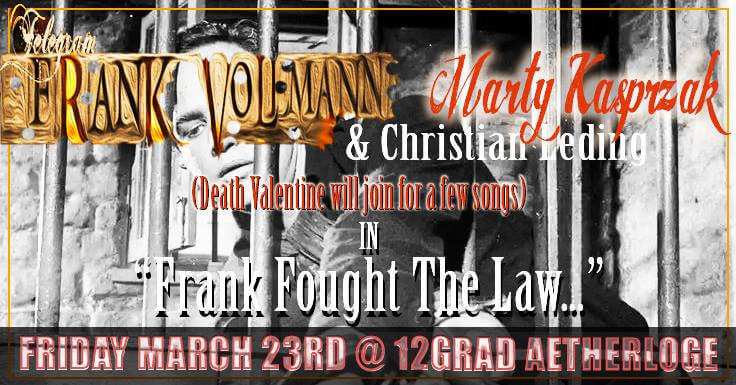 Unter TELEGRAM FRANK verbirgt sich ja bekanntermaßen niemand anderes als FRANK VOLLMANN, seines Zeichens Sänger und Kopf von FRANK THE BAPTIST. Ein kleinerer Zwischenfall mit übereifrigen Beamten der Berliner Polizei führte nun zur Notwendigkeit, ein kleines Benefiz-Konzert abzuhalten. Dazu hatte Frank sich ein paar Freunde eingeladen.
Zunächst gab es eine sehr schöne Solodarbietung von LEDING. Es ist kein Geheimnis, dass ich ein großer Fan von SALVATION AMP bin, und ein Konzert vom Sänger und Gitarrist der Band, Christian Leding, bot nicht nur tolle Solonummern, sondern gab auch den Songs der Band einen ganz neuen Flair.
Es folgten DEATH VALENTINE aus Berlin, deren Sänger Marty und Gitarrist Meikel auch bei SEPULCRUM MENTIS aktiv sind. Drummer Nestor war früher bei den GOLDEN APES. Die drei boten ein schönes Akustik-Rock-Set mit einigen interessanten Coverversionen wie "The Watchman" von den Fields of the Nephilim.
Dann betrat TELEGRAM FRANK die Bühne, unterstützt von Marty am Bass. Die beiden spielten sich die Songs eifrig zu, darunter auch ein paar Frank the Baptist-Stücke. Zwischendurch gab es dann auch die Auflösung, welches Ereignis genau zu diesem Konzert geführt hat.
Fazit: Ein schöner Abend mit toller Musik, netten Menschen und leckeren Drinks (irgendwie fehlt mir im Anschluss eine halbe Stunde des Abends… *g*). Top!
Fotos
Video-Playlist (3 Videos):