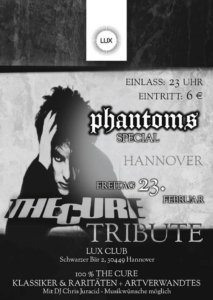 The Bat Haus & Phantoms Party präsentieren:
PHANTOMS SPECIAL: THE CURE TRIBUTE PARTY
Am 23. Februar 2018 findet ein Special der "Phantoms Party" in Hannover statt. DJ Chris Juracid wird THE CURE mit einer eigenen Clubnacht würdigen. Man darf sich also auf einen Abend voller Songs der Wave-Legende rund um Robert Smith sowie allerlei Artverwandtes wie THE SMITHS, THE CHAMELEONS, JOY DIVISION, PSYCHEDELIC FURS oder ECHO AND THE BUNNYMEN freuen.
Eintritt: 6 Euro
Datum/Zeit: Freitag, 23.02.2018, 23:00
Veranstaltungsort: Lux • Schwarzer Bär 2 • 30449 Hannover
Kategorien: