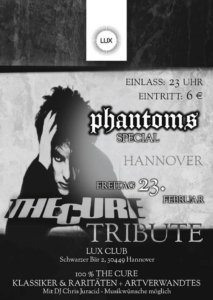 The Bat Haus & Phantoms Party present:
PHANTOMS SPECIAL: THE CURE TRIBUTE PARTY
On 23rd February 2018 there will be a special "Phantoms Party" in Hannover. DJ Chris Juracid will honour THE CURE with a dedicated club night. So we can look forward to a night full of songs by the Wave legend around Robert Smith and some related music likeTHE SMITHS, THE CHAMELEONS, JOY DIVISION, PSYCHEDELIC FURS oder ECHO AND THE BUNNYMEN.
Admission: 6 Euro
Datum/Zeit: Friday, 23.02.2018, 23:00
Veranstaltungsort: Lux • Schwarzer Bär 2 • 30449 Hannover
Kategorien: