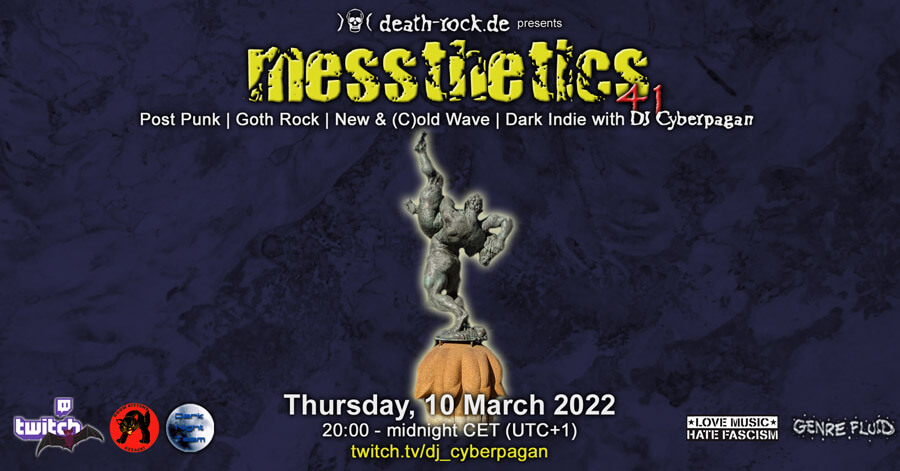 Mein "genre-fluid" Donnerstags-Livestream-DJ-Set vom 10. März 2022 – mit einem speziellen Fokus auf ukrainischen Bands.
Tracklist
Carlos Perón – Die Ringerzählung
Irfan – Hagia Sophia
Dead Can Dance – Mesmerism
Dark Reality – Sint Lumbi Vestri
The Merlons – Salamandrina
Einstürzende Neubauten – Selbstportrait mit Kater
Einstürzende Neubauten – Let's Do It a Dada (req)
Hatestory – Monumentalny
Siouxsie – Into a Swan
Yama Uba – Laura
Grundeis – Blood to Water
The Cure – Kyoto Song
XIII. Století – Fatherland
The Mission – Evangeline
The Sisters of Mercy – First and Last and Always
Götterdämmerung – Lesser Deity
Dahau Holidays – Губы
S Y Z Y G Y X – News Flash
Fever Ray – Wanna Sip
Minuit Machine – Danger (live)
Brigitte Handley | Matahari Ranch – Köln
Linea Aspera – Solar Flare
Mueran Humanos – Reemplazante
Camlann – Dancing with My Pain
Twin Tribes – The Vessel
The Room Without Sun – On This Side
Whispering Sons – Fragments
Diavol Strâin – Wroclaw
Hände – Marionetka
A Dull Set – Emerge
Giant Waves – Dying Art
Bloody Dead and Sexy – White Noise Paranoia
Faith and the Muse – Romeo's Distress (live)
Ausgang – Here It Comes
The Medicine Dolls – Danger! Danger! Disco! (req)
†13th Moon† – Waltz for Devil
Nox Novacula – Michelle
Rosegarden Funeral Party – Martyr
Fotocrime – Always Hell
Naturata Brutalismus – La Ruptura de la Gravedad
Wires & Lights – Swimming (req)
The Spiritual Bat – Heroes Anymore
Lycia – Simpler Times
Wingtips – The Eye That Follows Suit
Edgy Point – Soon
Korine – Cast
Actors – Killing Time (Is Over)
Medicine Boy – E.V.I.L
Gary Numan – Metal (live)
77подъезд – Весна
Box and the Twins – Lovesong for a Boy
Red Apple Cvlt – Under the Rain
A Million Ways to Die – The Veneer
BFG – Fathoms
Peter Murphy – Marlene Dietrich's Favourite Poem
Holograph – Forget the Things You've Said
Bad News from Cosmos – Sun Over Me, Moon Over Me
This Drowning Man – Tribute to You
Ukrainische Bands sind blau markiert.
Mixcloud Player