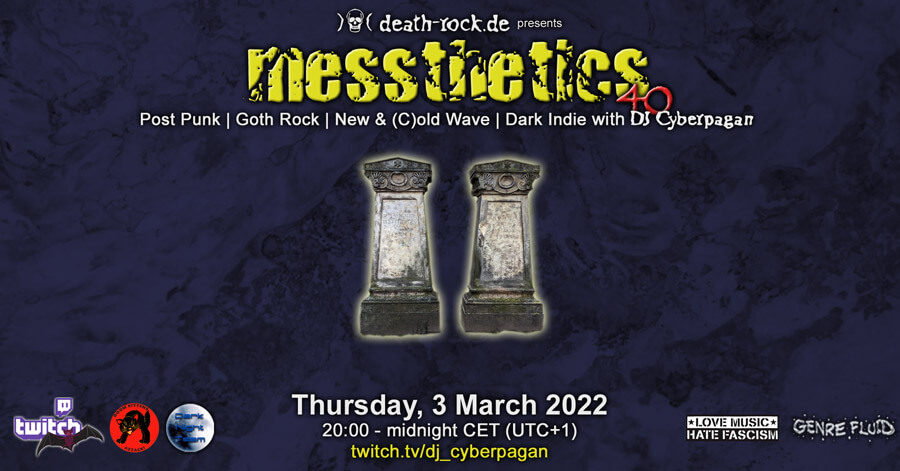 Mein "genre-fluid" Donnerstags-Livestream-DJ-Set vom 3. März 2022 – mit einem speziellen Fokus auf ukrainischen Bands.
Tracklist
Savage Republic – 1938
Pink Floyd – The Dogs of War
Gil'otina – Pozhar
Boy Harsher – Machina (feat. Ms. BOAN – Mariana Saldaña)
Delphine Coma – The Lebanon
Sexual Purity – Alone
Karlyv Tyn – Укусил Сугроб
Kold Front – Signaler
Smurno – Плюй і Плач
Twice Dark – Deadly Darling
UK Decay – For My Country
Sex Gang Children – Death Mask Mussolini
Delirium – Глаза
Marquee Moon – Angst & War
Je t'Aime – Unleashed
Zirkular Dion – Солнце
Bluefaces – Nietrwałe Nic
A Dull Set – This Figure
The Last Passenger – If It was Only Fiction
Soft Kill – Wanting War
The Last Days of Jesus – 1-2-3 War
Улица Восток – На Моей Улице
Pinoreks – War Games
Kadeadkas – Angst Noise War
Лунар – Страна Цветов
The Cure – Jumping Someone Else's Train (req)
Scarlet's Remains – Children Write on Missiles
The Sound – Missiles
Электроптицы – Этого Лета
Molchat Doma – Звезды / Zvezdy
Slovenska Televiza – Tardes de Domingo en Pripyat
Кадрил (Quadrille) – S Rozoy Vo Rtu
Wieże Fabryk – Wojna
Tanks and Tears – War
Morwan – Зола-Земля
Whispering Sons – Tilt
Snowy Red – Euroshima (Wardance)
Black Light District – Terrible People
Ashes Fallen – Stand Your Ground (Persistence Mix by The Axiom Divide)
Gary Numan – War Games
Icy Men – Сон (Dream)
Zanias – Limerence
Licorice Chamber – As the World Breathes
Театр Абсурда – Твой Дом Пуст
Silent Runners – Nothing Stays the Same
The Underground Youth – Beast (Anti War Song)
The Pleroma – Ничего
1919 – Borders
Still Patient? – We Come in Peace
The Nightchild – Shadows of the Past
Then Comes Silence – Rise to the Bait
New Model Army – The Charge
Dog Detachment – War March of the Priests
The Glass Beads – Music Box (req)
Nürnberg – Kaniec
Killing Joke – War on Freedom
The Spiritual Bat – Lockdown
Gentle Ropes – Endless Noise
The Cure – World War
Murder at the Registry – Warbelief 'R' Us
Datura – Trapped
The Parlotones – Should We Fight Back
Gitane Demone – Sound of War
Ukrainische Bands sind blau markiert.
Mixcloud Player