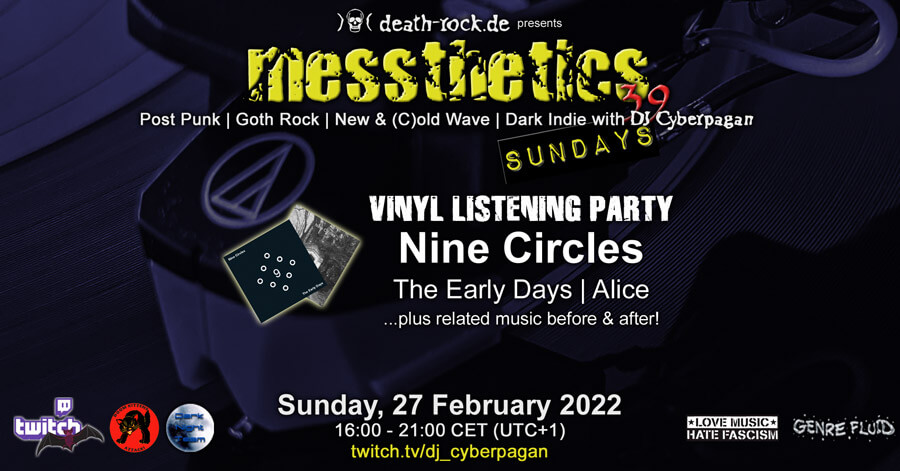 Die Sonntags-Vinyl Listening Party diesmal mit den Alben "The Early Days" und "Alice" von NINE CIRCLES.
Tracklist
Tubeway Army – Replicas
Nine Circles – Something Between You and Me
Ciaran Harte – Love is Strange
Didi und die Herzschrittmacher – Modern
Christof Glowalla – Erde 80
Nine Circles – New Era
Bal Paré – Eine Nacht im 9. Stockwerk
Hysterica Passio – Grey over Life
Culture Reverse – Our Eyes Squint Sadly
Nine Circles – When I Dance
Das Kabinette – The Cabinet
The Rorschach Garden – State Protection
QEK Junior – Yoshiwara
Nine Circles – My Handsome Ugly Puppet
Delayscape – Onetwenty
The Electronic Circus – Direct Lines
Poeme Electronique – The Echoes Fade
NINE CIRCLES – THE EARLY DAYS
A1 – Miss Love (First Version)
A2 – Here Come I, Here is Me (First Version)
A3 – Hospitals
A4 – One Moment It Will Last
A5 – North South East the West
B1 – The Rose (First Version)
B2 – Mister Nothing
B3 – Looking For
B4 – Roots of Life
B5 – What's There Left
C1 – Twinkling Stars
C2 – Blinded by the Lies
C3 – Bullshit
C4 – Foolin'
C5 – How's About the Aims in Life
D1 – Intro (live)
D2 – Miss Love (live)
D3 – Here Come I, Here is Me (live)
D4 – The Rose (live)
D5 – Something Between You and Me (live)
Absolute Body Control – Melting Away
Associates – White Car in Germany
Polyphonic Size – Logique Polygonale
Human Distance – Laberinto (Demo)
NINE CIRCLES – ALICE
A1 – This is the Rose
A2 – Who Did It
A3 – Games
A4 – Dark City
A5 – The Shade Killed Her
A6 – Mercy
B1 – Alice Don't Jump
B2 – The Face Behind a Clown
B3 – Haunted by the Past
B4 – Vulkan
B5 – Broken World
B6 – No Romance
NINE CIRCLES – ALICE (CD Bonus Tracks)
CD13 – What's There Left (Version 2012)
CD14 – Here Come I, Here is Me (Version 2014)
CD15 – When I Dance (Version 2014)
CD16 – Number Not Available
CD17 – Twinkling Stars (Version 2012)
Automelodi – Schema Corporel
Abu Nein – Dying into a Dance
Cheiron – Land after Life
Nine Circles – Tsar Bomba
Doric – Monitors
Chrisma – Black Silk Stocking
FRTG13 – Das kosmische Grauen
Nine Circles – Your Heat Burns My Mask (Once in a While)
Rational Youth – Coboloid Race
Die Gesunden – Die Gesunden kommen
Silvia – Zuerst ich
Nine Circles – Hide
Hante. – F.O.X.
The Silicon Scientist – Laurel
La Femme – From Tchernobyl with Love (req)
Square Hollow – Singularity
Nine Circles – Mister Nothing (live)
Siouxsie and the Banshees – Red Light
Fever Ray – Red Trails
Linea Aspera – Wave Function Collapse
Nine Circles – I'm Deeply Touched
Tracks in hellblau wurden von Vinyl gespielt.
Mixcloud Player