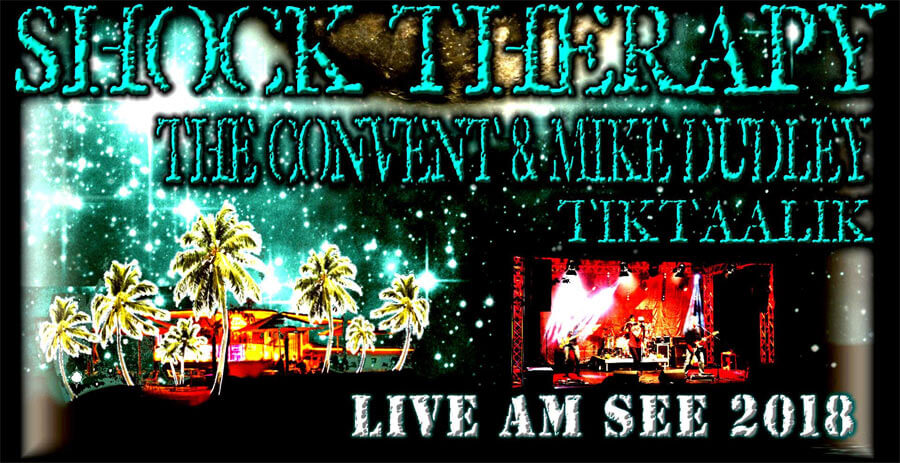 Auch in diesem Jahr fand in Meschede im CHILLIN HENNESEE wieder die sehr empfehlenswerte LIVE AM SEE Reihe statt. Am 30. Juni erwarteten die Gäste bei allerbestem Sommerwetter gleich drei Highlights.
Zuerst spielten TIKTAALIK ihre bezaubernde Mischung aus Trip-Hop und Synthpop, irgendwo zwischen Björk, den Cranes und Massive Attack. Das sympathische Duo konnte dann auch schon zu noch recht früher Stunden das Publikum begeistern.
Mein persönliches Highlight folgte in der Mitte mit THE CONVENT, die als Schlagzeuger MIKE DUDLEY von THE SOUND dabei hatten. Und aus Songs von The Sound bestand dann auch das komplette Set – Gänsehaut schon vom Opener "Silent Air" an! Schön, die Stücke endlich mal "so nah wie möglich am Original" live mitzubekommen!
Die Setlist: Silent Air – Fatal Flaw – I Can't Escape Myself – New Dark Age – Total Recall – Heartland – Winning – The Fire – Hands of Love – Party of the Mind – Barria Alta – Monument, und als Zugabe Possession.
Headliner waren SHOCK THERAPY. Ich war etwas skeptisch, wie die Band ohne den verstorbenen Sänger Itchy klingt, doch schon nach wenigen Augenblicken waren die Bedenken zerstreut. Die Songs wurden würdig wiedergegeben, und zwischendurch wurde Itchy auch immer wieder gedacht. Es mag eine Tribute-Band sein, doch zumindest eine würdige.
Fazit: Drei tolle Konzerte bei perfektem Open-Air-Wetter in einer wunderschönen Location. Top!
Fotos
Video-Playlist (12 Videos):