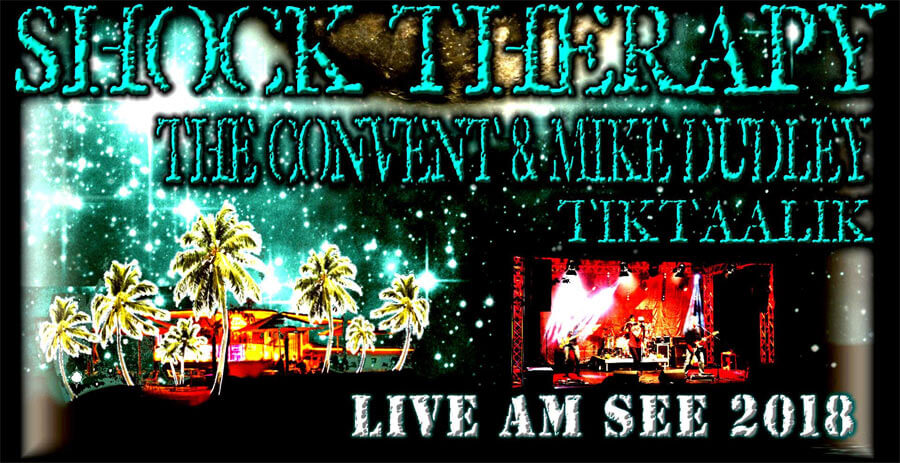 This year, the highly recommended LIVE AM SEE concert series took place again at CHILLIN HENNESEE in Meschede. Om 30th June, three highlights awaited the visitors with best summer weather.
First band were TIKTAALIK with an enchanting mix of Trip-Hop and Synthpop, somewhere between Björk, Cranes and Massive Attack. The sympathetic duo was able to thrill the audience even at the rather early hour.
My personal highlight followed in the middle with THE CONVENT who had MIKE DUDLEY of THE SOUND as a drummer this time. And their set conisted entirely of songs by The Sound – goosebumps right from the opener "Silent Air"! It was great to hear those tracks "as close to the original" live at last!
The setlist: Silent Air – Fatal Flaw – I Can't Escape Myself – New Dark Age – Total Recall – Heartland – Winning – The Fire – Hands of Love – Party of the Mind – Barria Alta – Monument, and as encore: Possession.
Headliners were SHOCK THERAPY. I was a bit unsure about how they would sound without their late singer Itchy, but already after a couple of moments my doubts vanished. The songs were played in style, and the whole set was dedicated to Itchy's memory. It might be a tribute band, but at least it's a worthy one.
Conclusion: Three great concerts in perfect open-air weather in a beautiful location. Top!
Photos
Video Playlist (12 Videos):