Ein spezieller Online-Event, gewidmet den RETURN TO THE BATCAVE Events und dem BAT-CAVE PRODUCTIONS Plattenlabel.
Was vor 15 Jahren als Webzine startete, hat sich seitdem zu einem Plattenlabel, einem Festival und weiterem Wahnsinn aus Liebe zur Musik entwickelt. Zeit, das zu feiern!
Dieser Event bietet einige Bands aus dem Programm vom BAT-CAVE PRODUCTIONS Label und Bands, die bei einem RETURN TO THE BATCAVE Festival gespielt haben.
Bands: SENEX IV – SACRED LEGION – TEARS FOR THE DYING – RAVEN SAID – VIRGIN IN VEIL JE T'AIME – BATBONER – SINDICATO VERTICAL – OPOWIESC – DARK DOOR – DETOXI – NATURATA BRUTALISMUS – ESSES – DELIRIUM MASK – DOUBLE ECHO – HORROR VACUI – WHITE ROOM – SECTARIA BLOOM – TVMVLVS TABIDVS – V.E.X. / MOIRA SCAR – THE CREEPING TERRORS
DJs: CYBERPAGAN (DE) – NORTIA OBSCURITAS (DE) – CAVEY NIK (UK) – POISONDWARF (AU) – MARTIN OLDGOTH (UK) – ZYNISCHE (IT) – POLINA Y (BE) – AZY BATS (US) – WOODRAF (PL)
Start: 10.04.2021 um 16:00 Uhr (MESZ).
Facebook-Event
Stream auf Twitch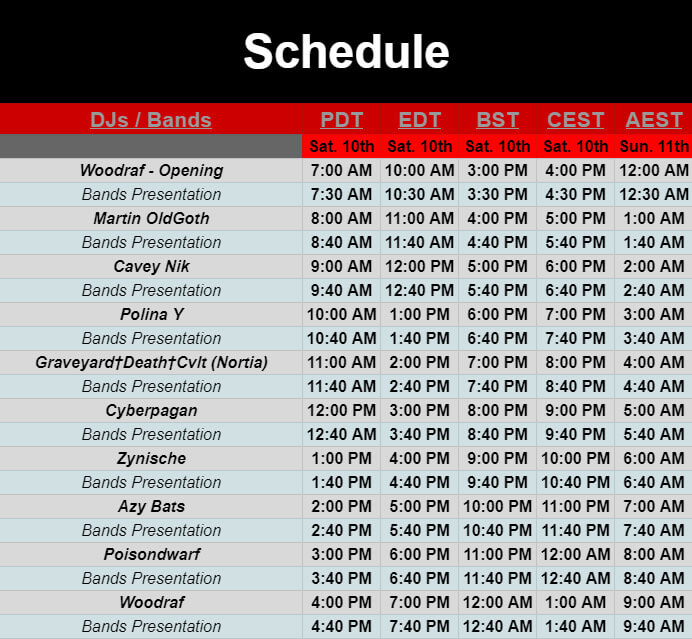 Datum/Zeit: Samstag, 10.04.2021, 16:00
Kategorien: