A special on-line event dedicated to RETURN TO THE BATCAVE events and the BAT-CAVE PRODUCTIONS record label.
What started 15 years ago as a webzine has since evolved into a record label, a festival, and more madness for the love of music! Time to celebrate then!
This event will feature a couple of bands from the BAT-CAVE PRODUCTIONS label or who played at RETURN TO THE BATCAVE Festival.
Bands: SENEX IV – SACRED LEGION – TEARS FOR THE DYING – RAVEN SAID – VIRGIN IN VEIL JE T'AIME – BATBONER – SINDICATO VERTICAL – OPOWIESC – DARK DOOR – DETOXI – NATURATA BRUTALISMUS – ESSES – DELIRIUM MASK – DOUBLE ECHO – HORROR VACUI – WHITE ROOM – SECTARIA BLOOM – TVMVLVS TABIDVS – V.E.X. / MOIRA SCAR – THE CREEPING TERRORS
DJs: CYBERPAGAN (DE) – NORTIA OBSCURITAS (DE) – CAVEY NIK (UK) – POISONDWARF (AU) – MARTIN OLDGOTH (UK) – ZYNISCHE (IT) – POLINA Y (BE) – AZY BATS (US) – WOODRAF (PL)
Start: 10th April 2021 at 16:00 (CEST).
Facebook Event
Stream on Twitch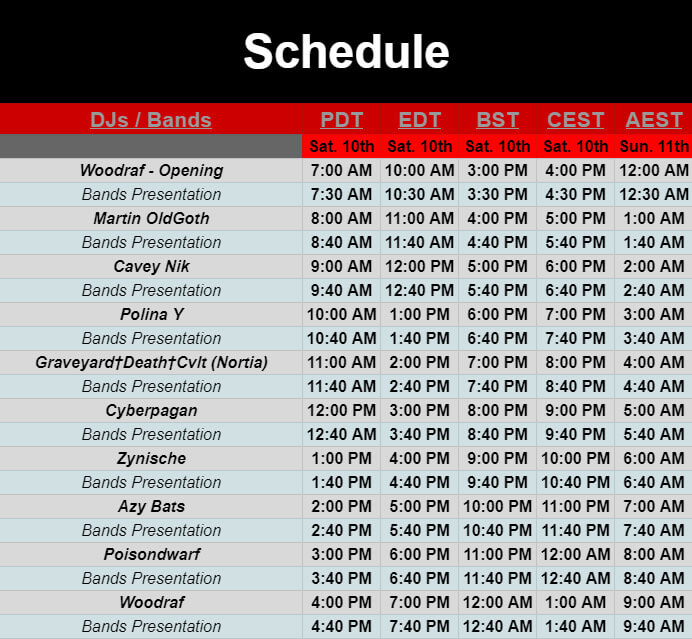 Datum/Zeit: Saturday, 10.04.2021, 16:00
Kategorien: