Die aktuelle Situation hat viele unsere Freunde in eine schwierige finanzielle Lage gebracht. Livemusik-Veranstaltungen sind zum Erliegen gekommen, und Leute haben ihren Job verloren und kaufen weniger Musik, daher haben vor allem Veranstalter und kleine Labels Probleme.
Nun sind leider auch unsere Freunde von Bat-Cave Productions betroffen. Dieser spezielle Event für Bat-Cave Productions bietet viele tolle Bands und DJs aus aller Welt. Ziel ist es, mit Spenden das Überleben von Bat-Cave Productions zu sichern.
Wir all wissen, wie schlecht es für Bat-Cave Productions aussieht, und wenn wir sie verlieren, verlieren wir einen wichtigen Teil unserer Subkultur. Während des Event werden wir Spenden sammeln. Helft uns dabei, einen Teil unserer Subkultur zu retten!
Zeitplan
(Zeiten in MEZ / UTC+1)
20:00 DJ SET: Graveyard†Death†Cvlt (Nortia, DE)
21:30 BAND: Delirium Mask
22:00 BAND: Mystic Priestess
22:30 DJ SET: Graveyard†Death†Cvlt (Boogie Bat, DE)
23:30 BAND: Dystopian Society
00:15 DJ SET: Woodraf (Bat-Cave Productions / PL)
01:20 BAND: Tears For The Dying
01:35 BAND: Altar De Fey
01:55 DJ SET: Cavey Nik (UK)
02:55 BAND: The Creeping Terrors
03:05 BAND: Dividing Lines
03:15 BAND: Yama Uba
03:30 DJ SET: Cyberpagan (DE)
04:25 BAND: Sacred Legion
04:30 BAND: Screaming Dead
05:10 DJ SET: Dave Bats (Release the Bats, US)
06:10 BAND: Diavol Strâin
06:45 BAND: Twisted Nerve
07:25 DJ SET: Poisondwarf (AU)
Der Event startet am Samstag, 06.02.2021 um 20:00 (MEZ).
Facebook Event
Stream auf Twitch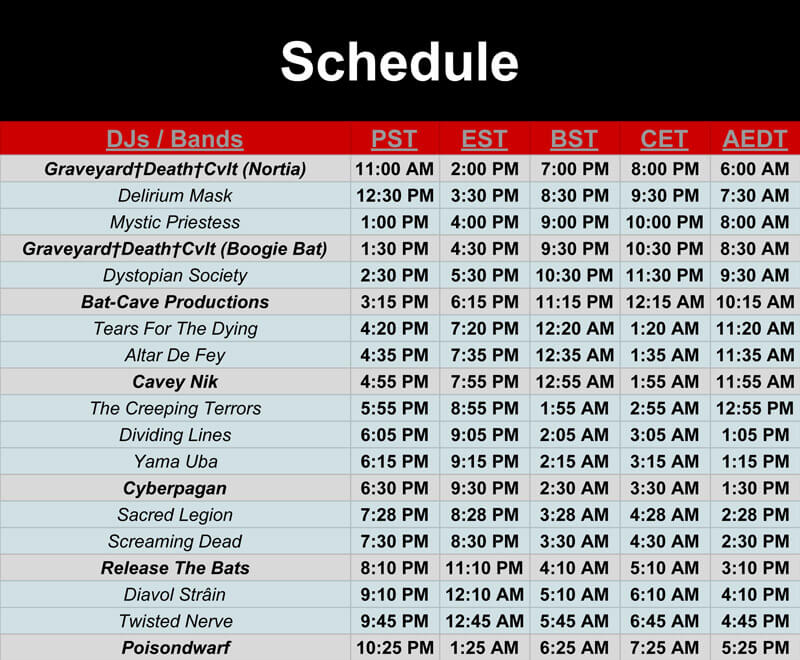 Datum/Zeit: Samstag, 06.02.2021, 20:00
Kategorien: