These times have left some of our friends in difficult financial situations. With live music activities basically have come to a full stop, and people losing their jobs and buying less music, especially promoters and music labels are having a hard time.
Now it sadly has affected our friends of Bat-Cave Productions too. This is a special event for Bat-Cave Productions with many great bands and DJs from all over the world. This charity event is to help Bat-Cave Productions to survive.
We all know how bad it looks for Bat-Cave Productions and if we lose them, we lose an important part of our sub-culture. We will be accepting donations during this event that will help to keep Batcave Productions alive. Help us saving an important part of our sub-culture!
Timetable
(Times in CET / UTC+1)
8:00 pm DJ SET: Graveyard†Death†Cvlt (Nortia, DE)
9:30 pm BAND: Delirium Mask
10:00 pm BAND: Mystic Priestess
10:30 pm DJ SET: Graveyard†Death†Cvlt (Boogie Bat, DE)
11:30 pm BAND: Dystopian Society
12:15 am DJ SET: Woodraf (Bat-Cave Productions / PL)
1:20 am BAND: Tears For The Dying
1:35 am BAND: Altar De Fey
1:55 am DJ SET: Cavey Nik (UK)
2:55 am BAND: The Creeping Terrors
3:05 am BAND: Dividing Lines
3:15 am BAND: Yama Uba
3:30 am DJ SET: Cyberpagan (DE)
4:25 am BAND: Sacred Legion
4:30 am BAND: Screaming Dead
5:10 am DJ SET: Dave Bats (Release the Bats, US)
6:10 am BAND: Diavol Strâin
6:45 am BAND: Twisted Nerve
7:25 am DJ SET: Poisondwarf (AU)
The event will start on Saturday, 6th February 2021, at 20:00 (CET).
Facebook Event
Stream on Twitch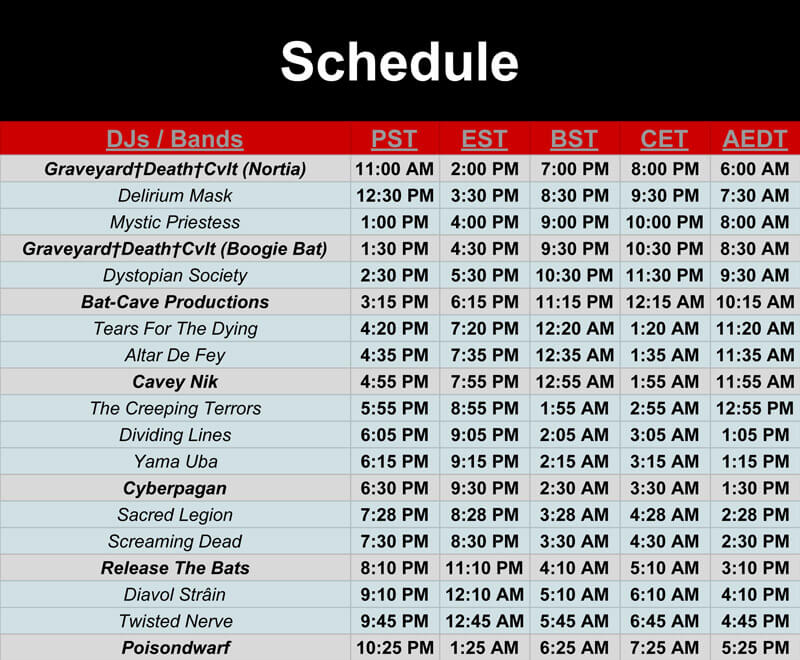 Datum/Zeit: Saturday, 06.02.2021, 20:00
Kategorien: