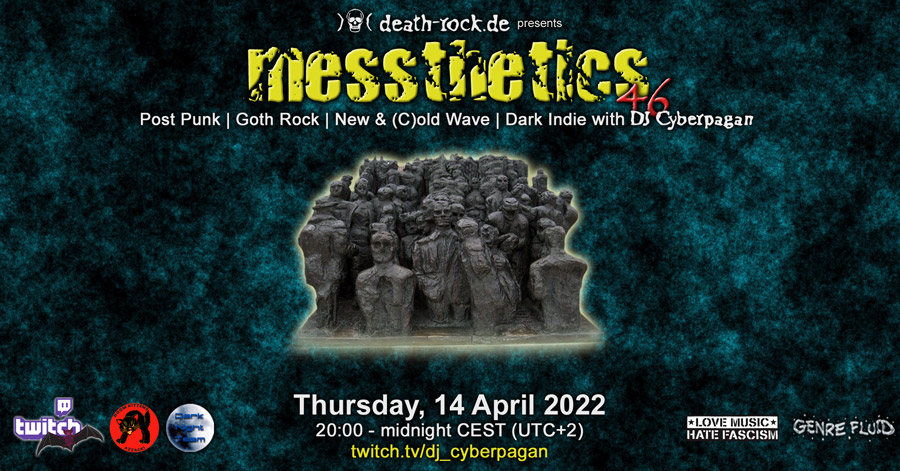 Mein "genre-fluid" Donnerstags-Livestream-DJ-Set vom 14. April 2022.
Tracklist
Krautwerk – Inderwelt
Principe Valiente – Barricades
Black Angel – Breathe
Ashes Fallen – Stand Your Ground (Persistence Mix by The Axiom Divide)
Kite – Panic Music
Procesor Plus – Mikroskop
Soft Riot – The Eyes on the Walls
Baron Fantôme – Journal du Voleur
Cierń – The Box
1919 – Cry Wolf (req)
Tvmvlvs Tabidvs – Ars Moriendi
Götterdämmerung – Dance in Devachan
Götterdämmerung – Good Things (req)
Twice Dark – Deadly Darling
The Medicine Dolls – Sick of Anesthetic
Faith and the Muse – Romeo's Distress (live) (req)
Carnal Machinery – Solitudinarian
Pornografia – Drzewa
Message – Dernière Nuit
Siekiera – Idziemy Na Skraj
Ausgang – Here It Comes
The Last Days of Jesus – Ludzie Wschodu
Nyx Division – Orchid Rain
Twisted Nerve – Séance
Then Comes Silence – Ritual (feat. Karolina Engdahl) (req)
Raduga – Białe Kulki
Кадрил (Quadrille) – S Rozoy Vo Rtu
Bluefaces – Nietrwałe Nic
Je t'Aime – On the Phone
Ksy – Barykady
Stereoskop – Hazel Eyes
Men Without Hats – Love in the Age of War
The Room Without Sun – On This Side
Los Estafadores – Lucrecia, Mi Reflexión
Silent Runners – Nothing Stays the Same
The Prids – Small Amounts
Edgy Point – Wasteland
Sweet Spectra – Under the Bloody Moon
undertheskin – Fade
Whispering Sons – Marble White
Yama Uba – Laura
Xmal Deutschland – Manchmal
Depeche Mode – Dreaming of Me (req)
Suspiria – Behind the Wheel
Rosi – Forgotten World
†13th Moon† – Roses are Dead
The Spiritual Bat – Waltz
Skeletal Family – Waltz
Murder at the Registry – Cupido
Christian Death – Spiritual Cramp
Bloody Dead and Sexy – Fingers
Love Like Blood – Angie (req)
Naturata Brutalismus – Apetitus Naturalis
VIDEO: Naturata Brutalismus – El Orden del Caos (Wroclaw 2022)
Diavol Strâin – El Ansia
Tanit – Banshee
The Palest Grey – In This Room
Sublocal_z – Primitive 82
Już nie Żyjesz – Daleko
Gil'otina – Tvari
Traitrs – Oh, Ballerina
Psychoformalina – Psychoformalina
The Glass Beads – Nightmare
Winter Severity Index – Fernweh
topographies – Mirror
Vision Video – I Love Cats
Gentle Ropes – Endless Noise
Grundeis – Vex
Blau markierte Tracks wurden von Vinyl gespielt.
Mixcloud Player