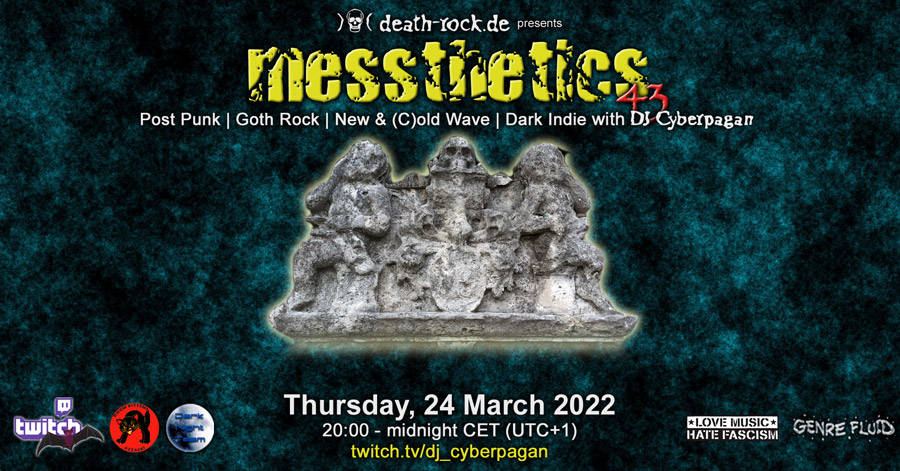 Mein "genre-fluid" Donnerstags-Livestream-DJ-Set vom 24. März 2022.
Tracklist
Heilung – Afhomon
The Legendary Pink Dots – Nightingale
VV & The Void – Blind Alleys
Blankenberge – Right Now
Seasurfer – Dragon Song
Autumn – Beginnings
This Burning Effigy – An Untold Release
Corpus Delicti – Staring
Passion Play – Running on Empty
The Awakening – Where the Shadow Goes
Vendemmian – Too Late
Ground Nero – Run from Your Relatives
Long Night – The Night's Ablaze
The Wake – Harlot
Sea Lungs – Piss Up a Rope
Christian Death – Dogs
Cinema Strange – Moundshroud
Cyteres – Sogno
Virgin Prunes – Baby Turns Blue
Virgin Prunes – Ballad of the Man (req)
The Rope – Dying Days
XIII. Století – Upír s Houslemi
October Burns Black – Cast Aside
Merciful Nuns – Karma Inn
Whispers in the Shadow – A Song for the Radio
Traitrs – Still from Her Sores
The Essence – The Cat
Lobby – Your Jail
Lea Porcelain – Shoot the Moon
The Mary Onettes – The Companion
Creux Lies – Áine's Song
The Lightning Seeds – Pure
New Order – The Perfect Kiss
Actors – Only Lonely
Hante. – RESPECT
Box and the Twins – Ashes
Human Distance – Laberinto (Demo)
Selofan – Zusammen
Zwarte Poëzie – Het Model (req)
Mueran Humanos – Un Lugar Ideal
Keluar – Fusion
Tenderlash – Inferno
Ariel Maniki and the Black Halos – Broken
Yama Uba – Laura
undertheskin – Drown
Hallowed Hearts – Somebody
Then Comes Silence – Kill It
The Parlotones – Beautiful (live)
Audra – Syd Barrett
The Sound – Total Recall (live)
FAZI / 法兹 – Borderless / 信游无疆
Desperate Journalist – Be Kind
The Gathering – Hunter
The Chameleons – Nostalgia
The Cure – The Blood
Black Rose Burning – Whisper (acoustic)
Frank the Baptist – Die, Die My Darling
Blau markierte Tracks wurden von Vinyl gespielt.
Mixcloud Player