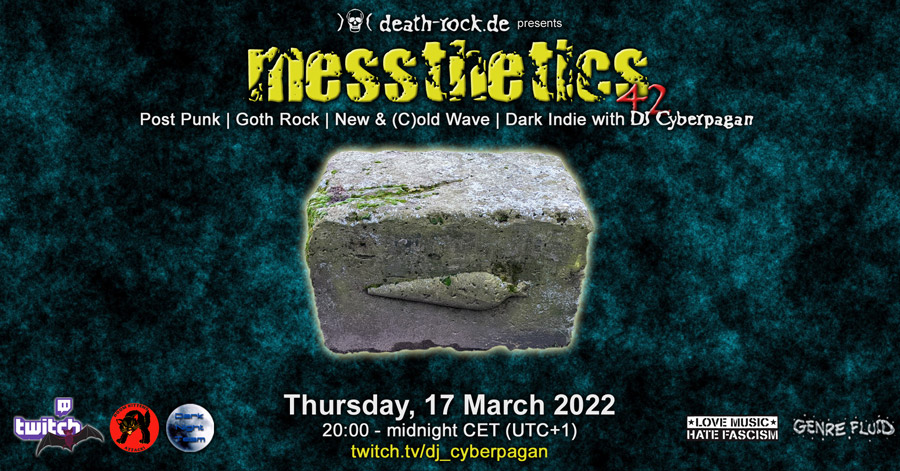 Mein "genre-fluid" Donnerstags-Livestream-DJ-Set vom 17. März 2022.
Tracklist
Crippled Black Phoenix – The Invisible Past
hackedepicciotto – The Seventh Day
Lycia – Except
Delphine Coma – Moth Meets Flame
The Tear Garden – Valium
Einstürzende Neubauten – Die Interimsliebenden
Einstürzende Neubauten – Sabrina (req)
Virgin Prunes – The Tortured Heart
XTC – Meccanik Dancing (Oh We Go!)
Then Comes Silence – Rise to the Bait
Lúcida Fila – Aradia
Lefki Symphonia – Me Mia Kravgi / With a Scream
Ikon – Black Roses
Black Angel – Black Angel
XIII. Století – Katakomby
The Rope – Trenches
Scary Black – Tragedy
Horror Vacui – My Funeral My Party
Long Night – It's All Gone
Nova et Vetera – Les Eaux Calmes
B-Movie – Polar Opposites (BBC Session)
Zwarte Poëzie – Zelfportret
Agent Side Grinder – Last Rites
Opera Multi Steel – Sérum de l'Humanité
Framheim – Closer
Kite – I Just Wanna Feel
Linea Aspera – Hinterland
Hante. – Wasting Time
Wingtips – Fallback
Actors – Strangers
Indochine – L'Aventurier
The Essence – Endless Lakes
Traitrs – Prostitution
Nox Novacula – Pray for Sleep
Rosegarden Funeral Party – Eden
Makthaverskan – Eden
True Moon – Poison
The Voodoo Spells – Gallows Tree (req)
The Spiritual Bat – Through the Shadows
White Rose Movement – Love is a Number
The Wedding Present – Brassneck
The Chapman Family – Anxiety
The Horrors – Who Can Say
Cerulean Veins – Girls Will Dance
The Exploding Boy – Let the Right One In
Creux Lies – Becoming
Twin Tribes – Dark Crystal (Part Time Punks Session)
Isla Ola – Alles Grau
Low Factor – You Now
Mueran Humanos – Reemplazante
Pitch Yarn of Matter vs. New Order – Your Silent Faults (Cyberpagan Remix)
Square Hollow – How Do You Cope?
The Glass Beads – Room 401
Marta Raya – Inner Movement
Mitra Mitra – Cockatoo
Drab Majesty – Cold Souls
Black Rose Burning – Under Twin Suns (acoustic)
The Cure – Lullaby (acoustic)
Blau markierte Tracks wurden von Vinyl gespielt.
Mixcloud Player