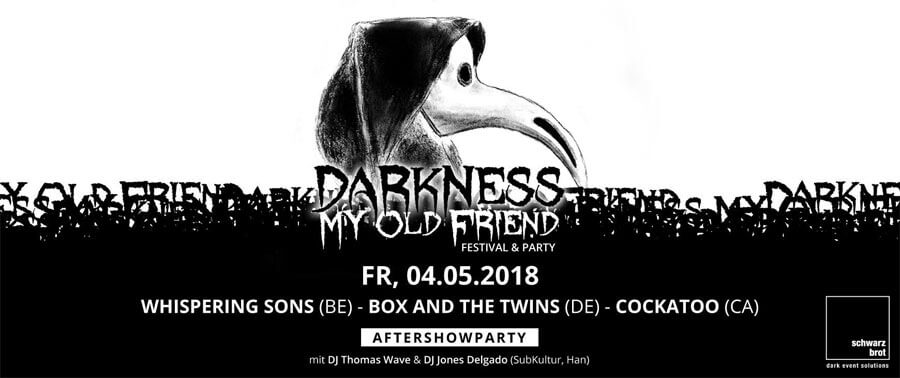 Das zweite DARKNESS MY OLD FRIEND Festival fand am 4. Mai 2018 im Bielefelder Movie statt. Zu Gast waren diesmal drei Bands aus drei verschiedenen Ländern.
Den Anfang machten COCKATOO, die ich erst sechs Tage zuvor beim Gotham Sounds Festival gesehen hatte. Dieses Mal hatten die Kanadier Zeit für einen richtigen Soundcheck, so klangen die tollen Songs gleich nochmal eine Spur besser. Dazu gab es auch klasse Beleuchtung, da freute sich das Fotografenherz 😉
Danach kam mit BOX AND THE TWINS die deutsche Band des Abends an die Reihe. Als ich sie zuletzt 2014 in Leipzig gesehen habe, hießen sie noch "Coctail Twins". Geliefert wurde wie schon damals Coldwave der neuen Schule im Stil von Bands wie Schonwald oder The KVB, was auch wieder gut ankam.
Headliner waren die WHISPERING SONS, über die ich vermutlich so langsam schon alles geschrieben habe. Immerhin war es mein 7. Konzert der belgischen Überflieger, und gerade die neuen Songs wie "Got a Light" oder "Waste" lassen die Zeit bis zum demnächst erscheinenden Album viel zu lang erscheinen.
Fazit: Ein tolles Mini-Festival mit drei tollen Bands, und dann noch so gut gelegen, dass man mit dem Nacht-ICE um 3:35 wieder zu Hause ist – so mag ich das 🙂
Fotos
Video-Playlist (10 Videos):