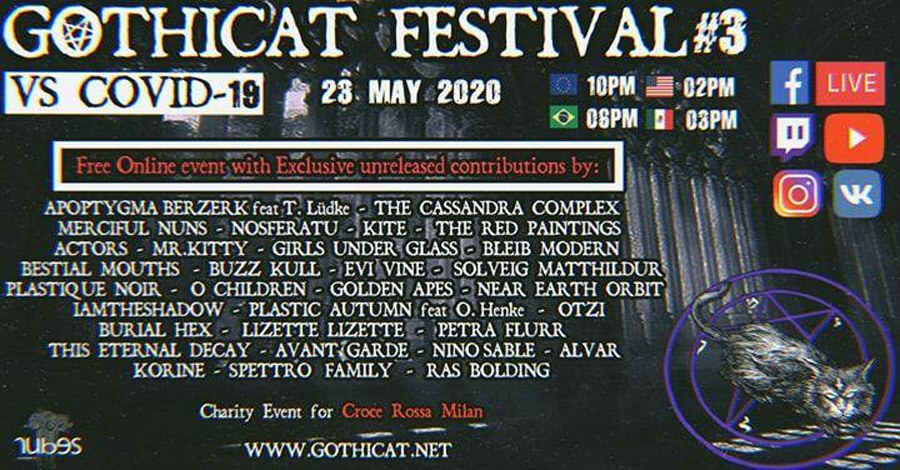 Nach dem großen Erfolg des ersten beiden GOTHICAT FESTIVAL gibt es am 23. Mai nun das GOTHICAT FESTIVAL #3. Auch diesmal ist es eine Online-Benefizveranstaltung, die beim Kampf gegen das Covid-19 Virus helfen soll. Es wird zwei Stunden von unveröffentlichten und nie gesehenen Live-Videoclips der besten Darkwave- und Goth-Acts aus der ganzen Welt bieten.
Während des Events werden Spenden für den Kampf gegen das Corona-Virus gesammelt.
André Savetier (The Wave of Things) wird durch die Show führen und Elio Nubes De Filippo (Studio Nubes) führt die Video-Regie.
Es ist wichtig, möglichst viele Personen zu diesem Event einzuladen, damit eine möglichst große Reichweite erzielt wird.
Bisher bestätigte Bands:
ACTORS • ALVAR • APOPTYGMA BERZERK feat. THOMAS LÜDKE • AVANT-GARDE • BESTIAL MOUTHS • BLEIB MODERN • RAS BOLDING • BURIAL HEX • BUZZ KULL • THE CASSANDRA COMPLEX • GIRLS UNDER GLASS • GOLDEN APES • IAMTHESHADOW • KITE • KORINE • LIZETTE LIZETTE • SÓLVEIG MATTHILDUR • MERCIFUL NUNS • MR. KITTY • NEAR EARTH ORBIT • NOSFERATU • O. CHILDREN • ÖTZI • PETRA FLURR • PLASTIC AUTUMN feat. OSWALD HENKE • PLASTIQUE NOIR • THE RED PAINTINGS • NINO SABLE • SPETTRO FAMILY • THIS ETERNAL DECAY • EVI VINE
Davor und danach findet der WORLD GOTH DAY STREAM statt.
Datum/Zeit: Samstag, 23.05.2020 - Sonntag, 24.05.2020, 22:00 - 01:00
Veranstaltungsort: Online-Event • Online • ---
Kategorien: