Obscura Undead präsentiert einen Tribut an das Leben und Schaffen von ANGELS OF LIBERTY's Voe Saint-Clare. Viele DJs aus der ganzen Welt beteiligen sich an diesem Event.
Spenden und andere Einnahmen gehen an Voe's Familie.
Nur auf Twitch!
Zeitplan
(Zeiten in MESZ / UTC+1)
18:00 DJ Azy (Obscura Undead)
18:45 DJ HATE Mior
19:30 Yami Spechie
20:15 SilentOrder (GeisterWelt Nights)
21:00 DJ Rickbats
21:45 Cyberpagan
22:30 DJ Thamona
23:15 Mortasha Kinski
00:00 martin oldgoth
00:45 DJ Cinis (Obscura Undead)
01:30 Vamp Daddy (Obscura Undead)
02:15 DJ Kangal
03:00 DJ Xiola
03:45 Marlen Moysidou (GeisterWelt Nights)
04:30 DJ Night Terror
05:15 DJ Wyntre Mysteria
06:00 DJ Detra (The Sisters of Mondays)
06:45 DJ Mary Millions (The Sisters of Mondays)
07:30 DJ Slave Zero
08:15 DJ Chat Noir
09:00 DJ Gomez (Dead Souls Gothic Lounge)
09:45 Naggaroth (Dead Souls Gothic Lounge)
10:30 Scary Lady Sarah
11:15 Sean Templar (Red Party NYC)
Start: 17.04.2021 um 18:00 Uhr (MESZ).
Facebook-Event
Stream auf Twitch
Zeitplan-Grafik für verschiedene Zeitzonen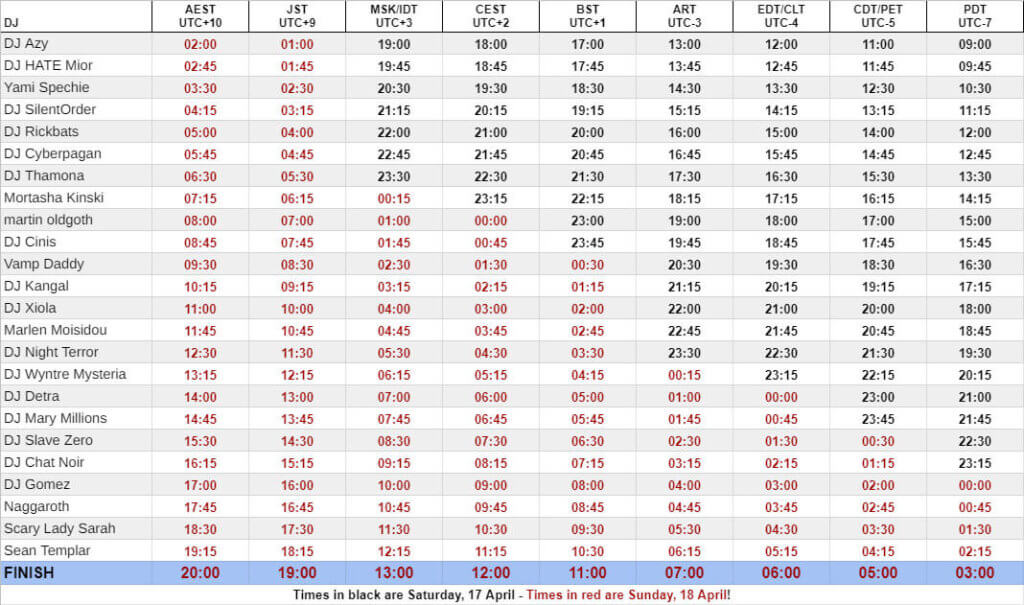 Datum/Zeit: Samstag, 17.04.2021, 18:00
Kategorien: