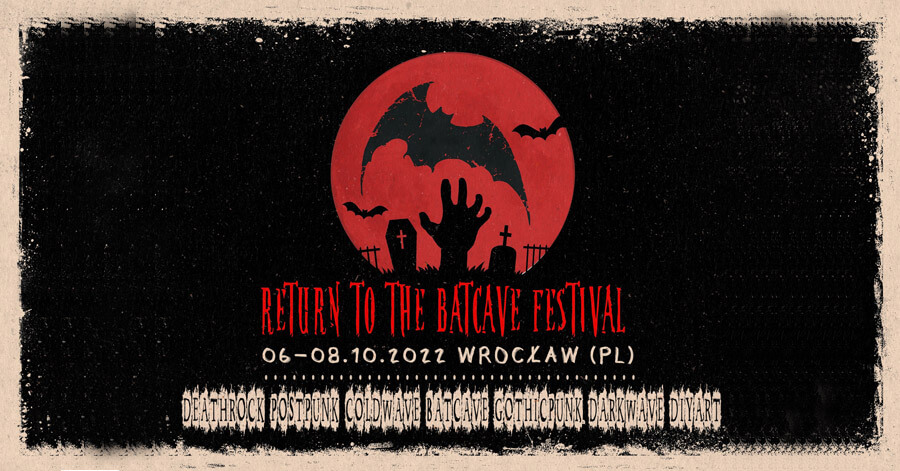 Zeitplan
Donnerstag, 6. Oktober
18:00 Doors
18:30 EAT MY TEETH (PL)
19:35 GENTLE ROPES (UA)
20:45 THE CITY GATES (CA)
21:55 PSYCHOFORMALINA (PL)
23:10 DAYS OF SORROW (DE)
+ DJs:
Polina Y (Mutant Transmission) (BE)
Cyberpagan (death-rock.de) (DE)
Woodraf (Return To The Batcave / Bat-Cave Prod.) (PL)
DRV (Return To The Batcave, PL)
Freitag, 7. Oktober
18:00 Doors
18:30 QUADRILLE (Кадриль) (UA)
19:40 HAMMERSHØI (FR)
20:50 SANTA ESPINA (ES)
22:00 THE FLATFIELD (FI)
23:10 NOKTVA (IT)
00:25 SENEX IV (UK)
+ DJs:
Martin Oldgoth (Mondlicht / Thirteen13) (UK)
Frenopata (Nekroclub) (MX)
Paul Spleen (Chlewik Party) (PL)
Samstag, 8. Oktober
18:00 Doors
18:30 MORWAN (UA)
19:40 SHE PLEASURES HERSELF (PT)
20:50 JE T'AIME (FR)
22:05 SACRED LEGION (IT)
23:15 AUSGANG (UK)
00:40 13TH CHIME (UK)
+ DJs:
Yggdrasil (Graveyard Thrills, Undead Decadance Party) (PT)
Exploding Boy (She Pleasures Herself / Eyes Wide Shut Ears Wide Open) (PT)
O! (Return To The Batcave, PL)
Das Festival läuft als private Veranstaltung, eine Einladung gibt es bei den Veranstaltern.
Facebook-Event
Website
Tickets
Datum/Zeit: Donnerstag, 06.10.2022 - Samstag, 08.10.2022, Ganztägig
Veranstaltungsort: Centrum Reanimacji Kultury • Kazimierza Jagiellończyka 10C/d • 50-240 Wrocław
Kategorien: