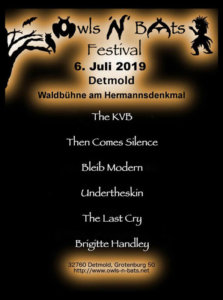 Am 6. Juli 2019 findet wieder das OWLS'N'BATS FESTIVAL auf der Waldbühne am Herrmannsdenkmal in Detmold statt. Das Lineup kann sich auch in diesem Jahr durchaus sehen lassen:
THE KVB (UK)
THEN COMES SILENCE (SE)
BLEIB MODERN (DE)
UNDERTHESKIN (PL)
THE LAST CRY (UK)
BRIGITTE HANDLEY (AU)
Einlass ist ab 14 Uhr, Beginn der Konzerte 16 Uhr.
Anschließend gibt es noch Party mit DJ Aubi und Martin Oldgoth.
Datum/Zeit: Samstag, 06.07.2019, 14:00
Veranstaltungsort: Waldbühne am Hermannsdenkmal • Grotenburg 50 • 32760 Detmold
Kategorien: