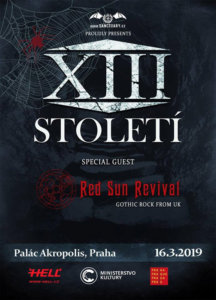 Rather unknown outside the Czech Republic, XIII. STOLETÍ are quite a legend there. Already since 1991 they are probably "the" Czech Goth Rock band. AOn 16th March they will play once again at PALÁC AKTOPOLIS in Rague.
Opening band will be the no less recommendable RED SUN REVIVAL from the UK.
Doors: 7:00 pm
After the gig from ca. 10:00 pm after-how party with Cyberpagan.
Datum/Zeit: Saturday, 16.03.2019, 19:00
Veranstaltungsort: Palác Akropolis • Kubelíkova 27 • 13000 Prag
Kategorien: