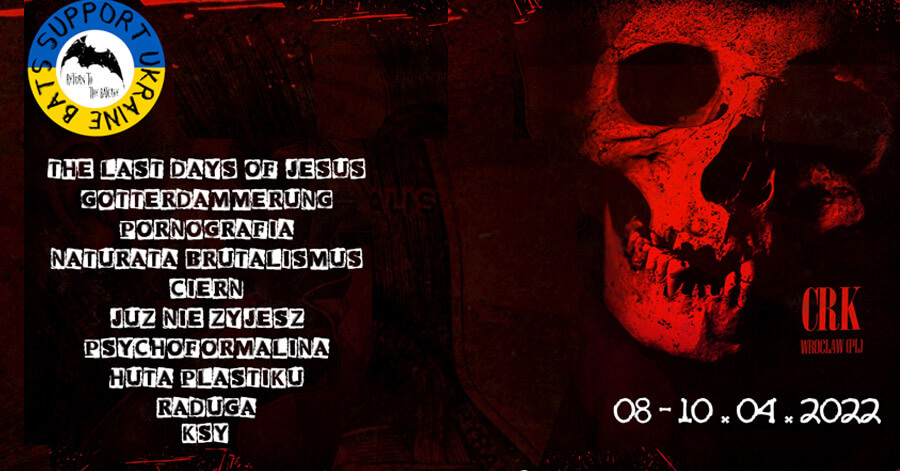 After various postponements, a special edition of the RETURN TO THE BATCAVE FESTIVAL took place on 8 and 9 April 2022 in Wroclaw (Breslau).
Local post-punkers PSYCHOFORMALINA kicked things off with an energetic set that was at times reminiscent of bands like Killing Joke.
BLUEFACES followed, replacing HUTA PLASTIKU. The duo offered neo-postpunk in the style of Molchat Doma and was convincing.
The middle was taken over by KSY from Katowice, who, despite minor technical problems, were able to perform their songs in the finest Polish Coldwave tradition.
The penultimate band of the evening were CIERŃ from Berlin with dark punk and a strong stage presence, which caused quite a bit of pogoing in the audience.
Headliners on the first day were the goth rockers from GÖTTERDÄMMERUNG, originally from the Netherlands but now based in Berlin, who once again proved that gothic rock is far from dead and can still sound fresh in 2022.
The second day started with RADUGA from Warsaw. The band, including members of PAST and MIGUEL AND THE LIVING DEAD, also stand in the tradition of Polish Coldwave, and as with PAST, the singing of singer Malgorzata came across very well.
The next band was NATURATA BRUTALISMUS, which I already saw last year and to which I have to come out as a fan 😀 Energetic postpunk / death rock with Emilio's Spanish lyrics, paired with a cool show – great!
Since JUŻ NIE ŻYJESZ from Łódź had to drop out due to illness of a band member, there was a solo performance by band member Grzegorz Jerzy Fajngold alias PROCESOR PLUS afterwards. The audience was treated to eletro punk in its purest form, paired with a few comedic interludes.
Afterwards, PORNOGRAFIA, a Polish New Wave legend, entered the stage. The band around Tytus De Ville has been active since the late 1980s and, although largely unknown in Germany, enjoys cult status in Poland. The set was energetic and impressive.
The Slovakian goth'n'rollers of THE LAST DAYS OF JESUS ​​played as the last band of the festival. As usual, the audience got a tight and entertaining show, singer Maryo is simply the born "stage harlequin"!
Conclusion
The RETURN TO THE BACAVE FESTIVAL has become a real institution and has quickly turned into one of my favorite festivals. I'm already looking forward to the "regular" edition in October!
Photos
Video Playlist (31 Videos):