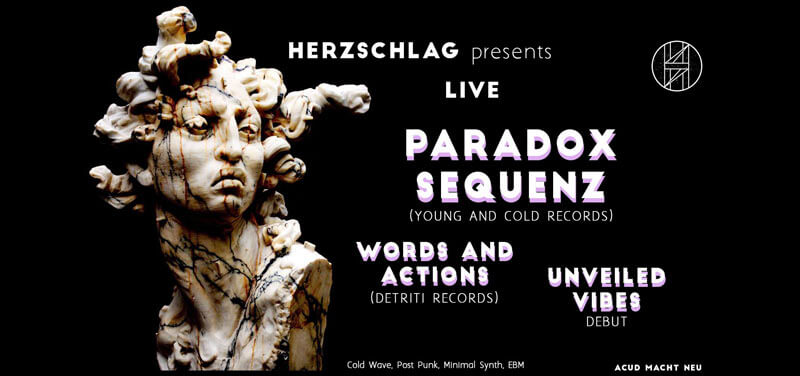 On 2nd June 2018 the "Herzschlag" team presented three bands of the contemporary elecronic Post Punk / Retro Industrial scene at the Berlin club "ACUD macht neu".
UNVEILeD VIBES were on first, a Berlin-based duo with electronic-abstract soundscapes supported by background projections.
Up next were WORDS ANd AcTIONS, another duo. The project originates from Italy and is influenced by minimalistic German oldschool EBM and Darkwave from former Yugoslavia.
The last act, PARADOX SEQUENZ, is a solo project combining 1980s-style Minimal Wave with socio-critic lyrics.
The gigs were followed by a club night with DJs Hanzel and Jaakko (Herzschlag) plus guest DJ Matthew (Silent Scream).
Conclusion: Three good gigs from bands in a music style that might not always be mine, but from time to time brings in a nice change.
Photos
Video Playlist (3 Videos):