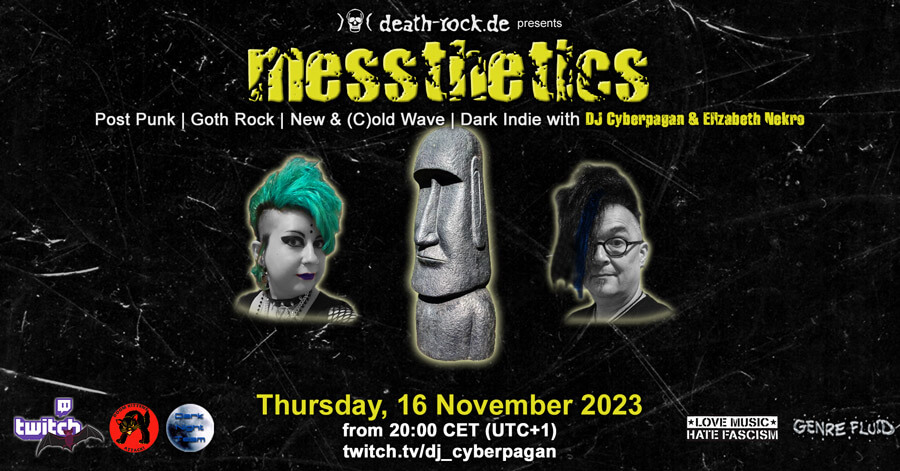 "Genre-fluid" Thursday-Livestream-DJ-Set mit DJ Cyberpagan und Elizabeth Nekro vom 16. November 2023.
Tracklist
– Cyberpagan –
The Danish National Symphony Orchestra & Tuva Semmingsen – Once Upon a Time in the West (live)
Fields of the Nephilim – Celebrate
Siiiii – Wax and Wane
Cieplarnia – Płoń, Płoń
Ausgang – I Fear the Fear
Gestalt – Novi Mundi
Zwarte Poëzie – De Laatste Dagen
Sydney Valette – What You Gonna Do?
– Elizabeth Nekro –
Astio – Bocche Stanche
Antiworld – Still Outcast
Christian Death – Mysterium Inquitatis
Nerorgasmo – Ansia
Anxtv – 1984
Endora y Sus Vicios – Menstruando
Cinema Strange – Moundshroud
Tragic Black – Nachtschleichen
Twisted Nerve – Medusa
Children on Stun – Cats or Devils Eyes
– Cyberpagan –
Play Dead – T.V. Eye
Hände – Krysztaɫowa Noc
Frustration – It's Gonna Be the Same
Neva – Vision
The Plasmareds – Alarmstufe Rot
Isla Ola – Nebelmond
Linea Aspera – Detachment
Doric – The Suspect
– Elizabeth Nekro –
Zona Utopia Garantita – Blitzkrieg
DAF – Verschwende deine Jugend
Das Kabinette – The Cabinet
Die Selektion – St. Leonard
Din [A] Tod – Some Kind of Hate
Elesde – Darkness Party
Dorsetshire – Herzschlag
– Cyberpagan –
Marta Raya – Vicious Cycle
Bluefaces – Między Nami
Fix und Fertig – Cube Carrelage Blanc
The Slits – Instant Hit
Delta 5 – You
Lene Lovich – Lucky Number
Cryptic Street – Let's Go Suki
The Medicine Dolls – A Conscript Aiming to Miss
Asyl – Sex Beat
The Cure – Killing an Arab
– Elizabeth Nekro –
45 Grave – Surf Bat
Fangs on Fur – New Coats
Siekiera – Ja Stoje, Ja Tancze, Ja Walcze
The Bellicose Minds – Villains
The Chameleons – Swamp Thing
The Creatures – Weathercade
Lords of the New Church – New Church
The Jesus and Mary Chain – The Living End
The Danse Society – The Seduction
– Cyberpagan –
Whispering Sons – Cold City
Mixcloud Player