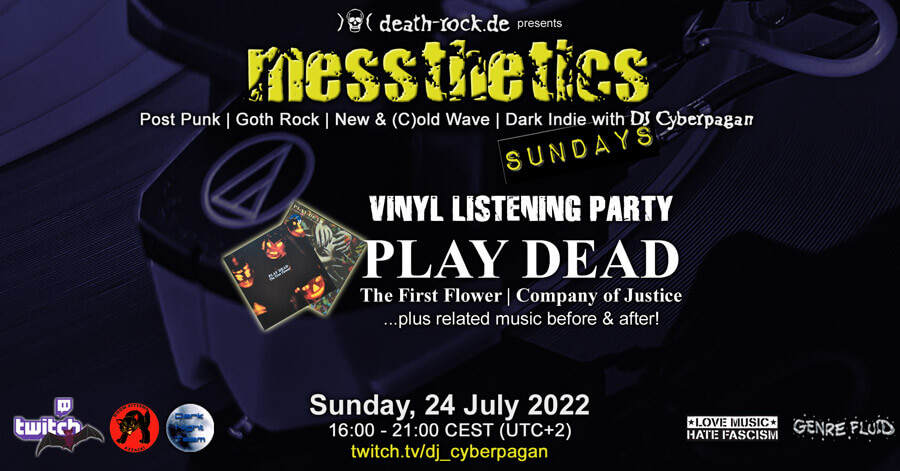 Die Sonntags-Vinyl Listening Party diesmal mit den Alben "The First Flower" und "Company of Justice" von PLAY DEAD.
Tracklist
Jupiter Dead + Tapes for Laura – I Never Liked the Sun
Play Dead – Blood·Stains·Pleasure
Bauhaus – Third Uncle
13th Chime – Hide + Seek
Play Dead – Walk Away (live)
UK Decay – Stagestruck
Altar de Fey – Telekinesis
Play Dead – Isabel
Cierń – The Box
Wasted Youth – Rebecca's Room
Play Dead – Pale Fire
The Danse Society – Clock
The Pop Group – We are Time
PLAY DEAD – THE FIRST FLOWER
A1 – Time
A2 – The Tenant
A3 – Propaganda (album version)
B1 – Sin of Sins
B2 – In Silence
B3 – Don't Leave Without Me
C1 – Propaganda (Mix)
C2 – Propaganda (1984 Mix)
C3 – Sin of Sins (1984 Mix)
D1 – Poison Takes a Hold
D2 – Introduction
D3 – T.V. Eye
D4 – Final Epitaph
CD07 – Shine
CD08 – Gaze
CD09 – Promise
The Sound – Missiles
The Chameleons – Singing Rule Britannia
Play Dead – The Tenant (live)
Chrome – In a Dream
Magazine – Shot by Both Sides
Play Dead – Pleasureland
No Friends of Harry – Competition Rules
Twisted Nerve – Gargoyle
Play Dead – Return to the East (live)
Siekiera – To Slowa
Siiiii – Instinct (Rough Version)
Play Dead – This Side of Heaven (live)
Nine Day Decline – Decisions
Like Wreckage – Like Wreckage
PLAY DEAD – COMPANY OF JUSTICE
A1 – Witnesses
A2 – Caught on the Thorns
A3 – Company of Justice
A4 – This Side of Heaven
A5 – Judgement
B1 – Chains
B2 – Celebration
B3 – Sacrosanct
B4 – Treason
B5 – Reward
CD11 – Last Degree
CD12 – Burning Down (Long Version)
Virgin Prunes – Walls of Jericho
Theatre of Hate – Legion
Play Dead – Sacrosanct (live)
1919 – After the Fall
Killing Joke – Primitive
Play Dead – Conspiracy
Skeletal Family – Waltz
Parálisis Permanente – Tengo un Pasajero
Play Dead – Break
Red Lorry Yellow Lorry – This is Energy
The Assisted Suicides – Сейчас
Play Dead – Holy Holy
Dead Inside – Lamp
Rebel Christening – Tribal Eye
Play Dead – Blood Stains
Red Zebra – Bastogne
Siglo XX – The Naked and the Death
Play Dead – Company of Justice (live)
Thomas Benjamin Wild Esq. – Well, This is Shit
Tracks in blau wurden von Vinyl gespielt.
Mixcloud Player