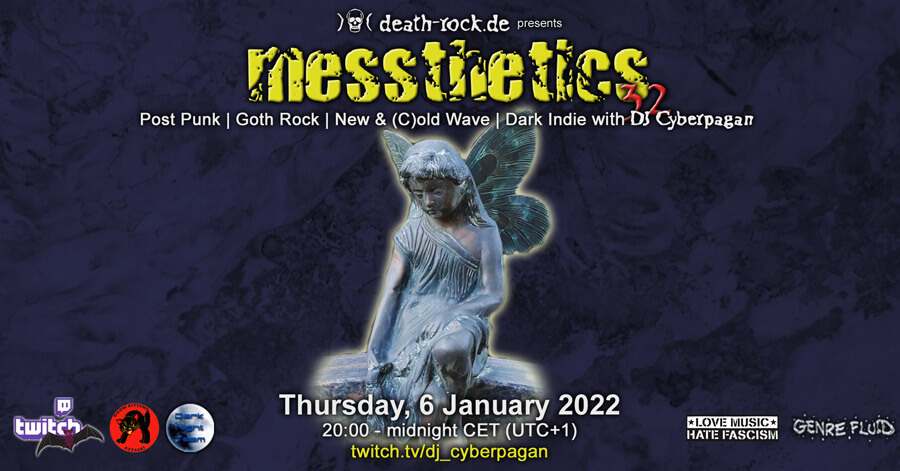 Mein "genre-fluid" Donnerstags-Livestream-DJ-Set vom 6. Januar 2022.
Tracklist
Alternative TV – Alternatives (live)
Sex Gang Children – Dieche (12″)
Creaming Jesus – Lillies
Snowman – Our Mother (She Remembers)
Sleeping Dogs Wake – Toys for Alice
The Soft Moon – Black
Minuit Machine – Danger (live)
Light Asylum – Skull Fuct
Zanias – Untethered
Bragolin vs. Adam Tristar – Let Out the Noise Inside
Molchat Doma – Kommersanty
ДК Посторонних (DK Postoronnih) – Пост-правда (Post-Truth)
Nürnberg – Abdymi
Hände – Armia
Xmal Deutschland – Matador
Ötzi – Magpie
No Friends of Harry – On the Beach (req)
Götterdämmerung – Longshot (req)
Skeletal Family – Just a Friend
Kadeadkas – Igralište
Horror Vacui – Lost
Tumbas – Decidí que Estoy Muerta
Opowieść – Światło
Burning Gates – Only the Memories
Siglo XX – Sister Suicide
Nine Day Decline – Nine Day Decline
Twisted Nerve – Poltergeist
Virgin Prunes – Baby Turns Blue
Virgin Prunes – The Tortured Heart (req)
Pinoreks – The Nicest Guy on Earth
Dog Detachment – Secrets
Makthaverskan – Antabus
Desperate Journalist – Kitten
Esses – Little Mouse
Diavol Strâin – Herz der Niemand
Scarlet's Remains – Metall Heiligenschein
Date at Midnight – Lights Off / Lights On
Yabanci – Coma
Naturata Brutalismus – Deseo en la Liquidez
Zwarte Poëzie – De Laatste Dagen
Rue Oberkampf – Congélation
Isla Ola – Nebelmond (req)
Twin Tribes – Portal to the Void (Part Time Punks Session)
Bootblacks – Nostalgia Void (live at Saint Vitus)
Ashes Fallen – Vampira – The Ballad of Maila
The March Violets – Tokyo Flow
XIII. Století – Katakomby
Murder at the Registry – Reconsider?
Grundeis – Never Got Away
Sad Lovers and Giants – One Man's Hell
The Comsat Angels – Be Brave
Black Rose Burning – Under Twin Suns
Diego – September March
Faith and the Muse – Running Up That Hill
Mayflower Madame – Sacred Core
The Cure – Other Voices
Kite – I Give You the Morning
Winter Severity Index – At Least the Snow
The Convent – One Million Nightmares (live)
The Convent – Amsterdam (req)
The Chameleons – View from a Hill
Gary Numan – Lost
Fever Ray – Keep the Streets Empty for Me
Tracks in gelb wurden von Vinyl gespielt.
Mixcloud Player