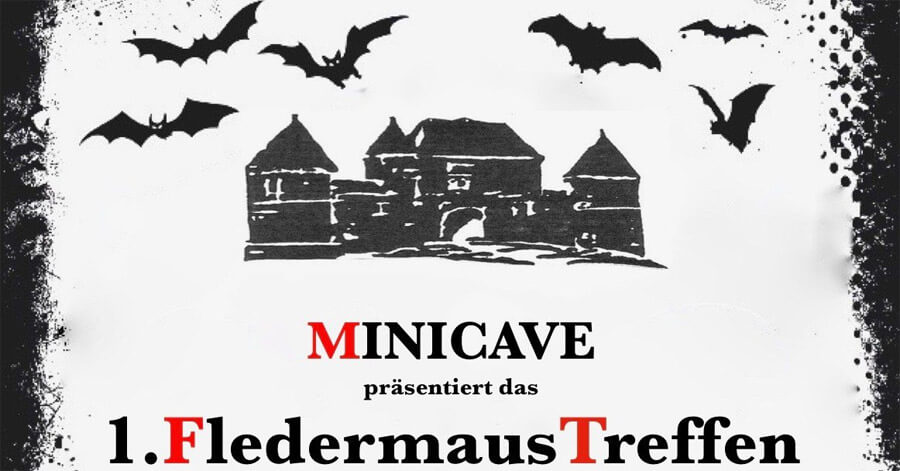 MINICAVE präsentiert:
1. FLEDERMAUSTREFFEN
Line-Up:
Friday, 08.07.22:
Doors 18:00
20:30 Lucas Lanthier (Cinema Strange)
22:00 Aftershowparty
Saturday, 09.07.22:
Doors 13:00 for Beergarden, guided tours through the castle, shopping, etc.
Bands
15:30 – 16:15 Te/DIS
16:35 – 17:30 The House of Usher
17:50 – 18:45 Still Patient?
19:05 – 20:05 News Days Delay
20:30 – 22:00 Frank the Baptist
22:00 Aftershowparty
Sunday, 10.07.22:
Opulent brunch before travelling home.
Tickets via minicave@gmx.de – subject "Fledermaustreffen 2022" and full names of all "bats" you are ordering tickets for. Giving us ALL full names is super important!
Within two days we'll send you an email with payment details, etc.
Prices:
Festivalticket: 38,-€/person – Access to all concerts and aftershowparties as well as the whole festival ground.
Campingticket 10,-€/person – Possibility to sleep in a tent, camper, caravan or Bulli on a camp ground next to the castle, on Friday and Saturday. Sanitary facilities included.
Datum/Zeit: Friday, 08.07.2022 - Saturday, 09.07.2022, Ganztägig
Veranstaltungsort: Burg Vondern • Arminstr. 65 • 46117 Oberhausen
Kategorien: