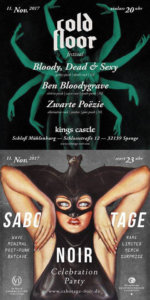 On 11 November the SABOTAGE NOIR in Spenge near Bielefeld celebrated their birthday in style with no less than three live acts at "Kings Castle".
BEN BLØØDYGRAVE from Berlin came on first with excellend German synth punk and an amazing amount of energy. Who thinks that one-man projects have little action on stage was proven wrong rather quickly.
The middle was held by ZWARTE POËZIE from utrecht in the Netherlands, whom I had just seen in Amsterdam four weeks ago. I just like their Darkwave/Postpunk mix with Dutsch lyrics 😉
Headliners were the well-known BLOODY DEAD AND SEXY, who demonstrated that they are far from too old to rock.
A club night with great music followed, and a lot of dancing was done. A great night in a fantastic location!
Photos
Video Playlist (11 videos):