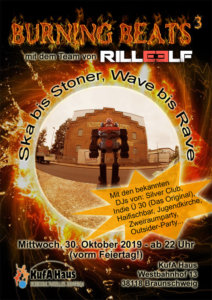 For everyone who misses the Silver Club, Pleasure Park, and other related events in Braunschweig, ther will be the third BURNING BEATS on 30th October 2019 (Wednesday before bank holiday)! The RILLE ELF team takes their wild ride through genres and decades to a new level as a proper club night at the newly opened Kufa-Haus at Westbahnhof.
The RILLE ELF DJs are well known in and around Braunschweig, since they have taken care of the sound not only at the Silver Club, but also with Fanclub Soundsystem at the Haifischbar, at Outsider-Party, messthetics, and Zweiraumparty at B58, at the "Jugendkirche", at the original "Indie-Ü-30-Party" at the Nexus, and of course together with their events "Tanztee im Tegtmeyer" and "Ball im Bierhaus".
The night starts at 10:00 pm, admission is free.
Datum/Zeit: Wednesday, 30.10.2019, 22:00
Veranstaltungsort: Kufa Haus • Westbahnhof 13 • 38118 Braunschweig
Kategorien: