On 22 May it's WORLD GOTH DAY again, and since bigger festivals and gigs are unlikely to take place in the near future, here is the second online edition of the WORLD GOTH DAY STREAM!
This year the event will go on for a complete day, featuring 48 half-hour DJ sets from 48 DJs or DJ couples from over 20 countries – a truly international event to bring the local scenes together.
ONE WORLD – ONE HUMAN RACE – ONE GOTH SCENE
Start: 22 May 2021 at 14:00 (CEST).
Facebook Event
Stream on Twitch
DJ Lineup
DJ Acidbitter (USA) —> Twitch
DJ Adrienne Scissorhands (Post-Mortem – San Francisco CA, USA) —> Twitch
DJ Andreas (Cold Transmission – Frankfurt, Germany) —> Twitch
DJ Azy (Obscura Undead – Tampa FL, USA) —> Twitch
DJ Biochili (USA) —> Twitch
DJ CCCP (onderSTROOM – Amsterdam, Netherlands) Twitch
DJ Ezechiel (Sanctuary.cz – Prague, Czech Republic) —> Twitch
DJ Fil Noir (Reformation – London, UK) —> Twitch
DJ Gomez (Dead Souls Gothic Lounge – Indianapolis, USA) —> Twitch
DJ Hades (Dark Malta Festival – Malta) —> Twitch
Lord Fer (El Real Under – Mexico City, Mexico) —> Facebook
martin oldgoth (Mondlicht – Colchester, UK) —> Twitch
DJ Matthew Fink (Johannesburg, South Africa)
DJ Maus (Obscura Undead – Tampa FL, USA) —> Twitch
DJ Naggaroth (Dead Souls Gothic Lounge – Indianapolis, USA / Chile) —> Twitch
Scary Lady Sarah (Nocturna, American Gothic Productions – Chicago, USA) —> Twitch
DJ Sean Templar (The Red Party – New York City, USA) —> Twitch
DJ Vamp Daddy (Obscura Undead – Tampa FL, USA) —> Twitch
William Faith (Lonely Tarts Club, American Gothic Productions – Chicago, USA) —> Twitch
DJ Woodraf (Return To The Batcave – Wroclaw, Poland) —> Twitch
Yami Spechie (Die in the disco, whip me? – Lima, Peru) —> Instagram
DJ Zona Fantasma (Zona Fantasma – Santiago, Chile) —> Instagram
Timetable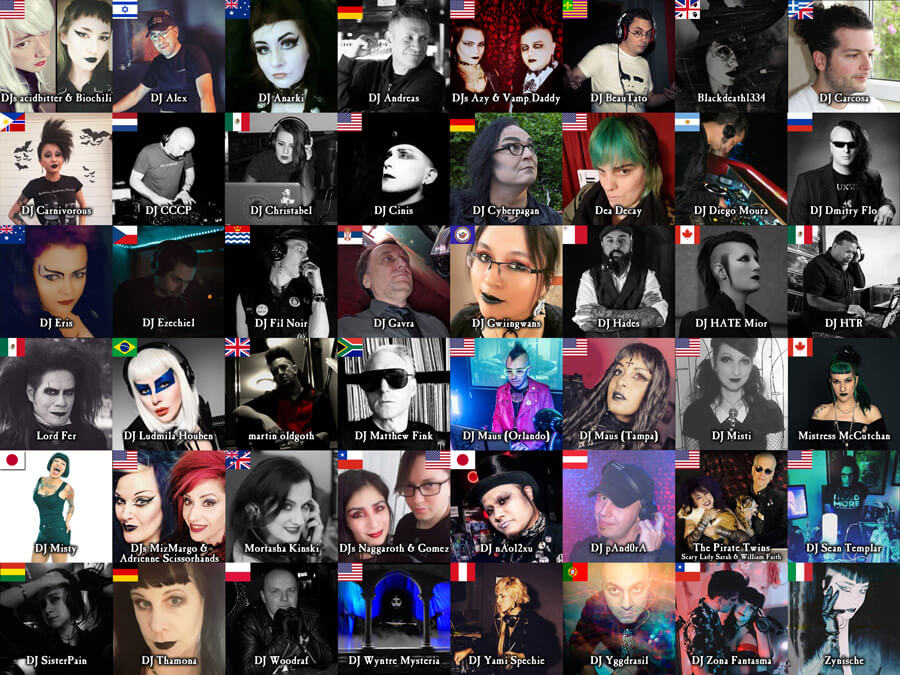 Datum/Zeit: Saturday, 22.05.2021 - Sunday, 23.05.2021, 14:00
Kategorien: