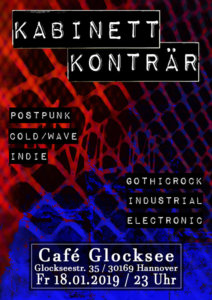 On 18th Jauary 2019 the KABINETT KONTRR will get together for the twelfth time. As usual we will take you to the darker side of music – different, unusual, loud, danceable – and all that in the great and specially prepared ambiente of the Café Glocksee.
Postpunk # Indie # Wave # Electronic # Punk # Goth # Coldwave # Industrial # Minimal # Zeug
Playlists of previous nights can be found HERE.
We're looking forward to seeing you!
– An underground collective
– A play with contrasts
– Contrary to standstill
– Between music and monoculture
18+
Datum/Zeit: Friday, 18.01.2019, 23:00
Veranstaltungsort: Café Glocksee • Glockseestr. 35 • 30169 Hannover
Kategorien: