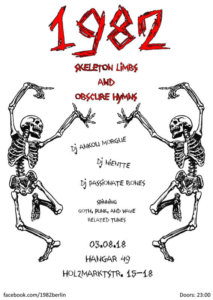 On 3rd August 2018 a new club night series starts in Berlin.
Named 1982 – SKELETON LIMBS AND OBSCURE HYMNS, the night is dedicated to the Wave, Punk, and Goth underground. Without the overpayed hits and with open end, the DJsAnkou Morgue (Goth-X Berlin), Nientte, and Passionate Bones will play obscure stuff and maybe even the songs you always wanted to hear in a club.
Start 11:00 pm, admission 4 EUR until midnight – 6 EUR afterwards.
Datum/Zeit: Friday, 03.08.2018, 23:00
Veranstaltungsort: Hangar 49 • Holzmarktstr. 15-18 • 10179 Berlin
Kategorien: