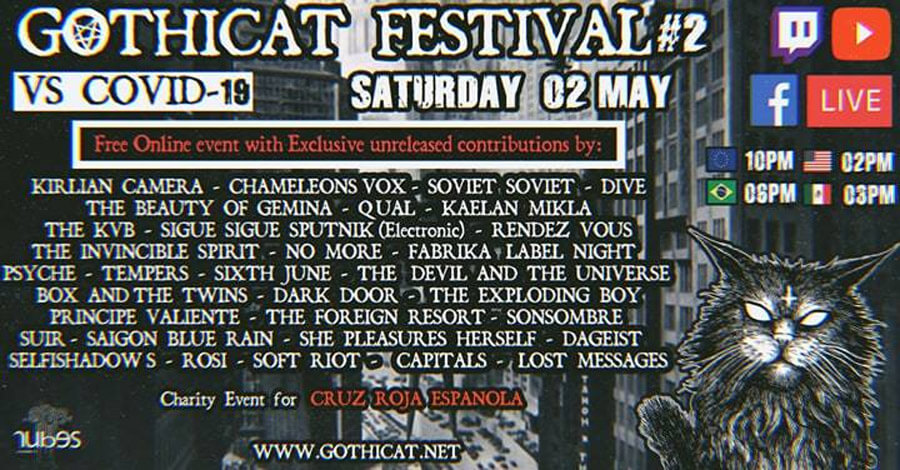 After the great success of GOTHICAT FESTIVAL #1 on 12th April which raised more than 6500 Euros for charity, there will be GOTHICAT FESTIVAL #2 now on 2nd May. Again it will be an online charity event with the aim to help fighting the Covid-19 virus. It will feature 2 hours of unreleased and never seen before live video clips from the best darkwave/goth acts from all around the world.
During the event, donations to support CRUZ ROJA ESPAÑOLA will be collected.
André Savetier (The Wave of Things) will be the host of the show and Elio Nubes De Filippo (Studio Nubes) the video director.
It's really important to Invite your friends to this festival and share it during the show to reach as many people as possible.
Confirmed bands:
BOX AND THE TWINS • CAPITALS • CHAMELEONS VOX • DAGEIST • DARK DOOR • THE DEVIL & THE UNIVERSE • DIVE • THE EXPLODING BOY • THE FOREIGN RESORT • THE INVINCIBLE SPIRIT • KÆLAN MIKLA • KIRLIAN CAMERA • THE KVB • LOST MESSAGES • PRINCIPE VALIENTE • PSYCHE • RENDEZ-VOUS • ROSI • SAIGON BLUE RAIN • SELFISHADOWS • SHE PLEASURES HERSELF • SIGUE SIGUE SPUTNIK • SIXTH JUNE • SOFT RIOT • SONSOMBRE • SOVIET SOVIET • SUIR • TEMPERS • Label-Special: FABRIKA RECORDS
Before there will be a live stream warm-up with DJ EVANGEL.
Datum/Zeit: Saturday, 02.05.2020, 22:00
Veranstaltungsort: Online-Event • Online • ---
Kategorien: