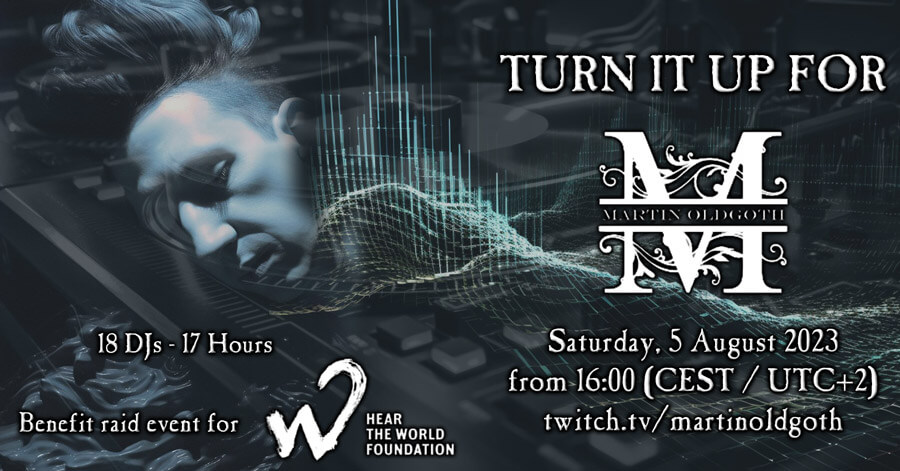 The setlists of the Twitch raid event on Saturday 5th August to help raise funds for a special in-ear hearing aid, with any funds in addition to the GBP1800 goal going to a children's hearing charity. To donate, please visit the GoFundme campaign page!
Tracklist
– Eris & Anarki (The New Order Melbourne) –
The Chameleons – Up the Down Escalator
The March Violets – Snake Dance
The Mission – Deliverance
Children on Stun – Sidelined
Hallowed Hearts – Supernova
The Sisters of Mercy – Dominion / Mother Russia
Wires & Lights – Swimming
Lebanon Hanover – Kiss Me Until My Lips Fall Off
Grauzone – Eisbär
Twin Tribes – The River (Skeleton Hands Remix)
She Past Away – Kasvetli Kutlama (Tobias Bernstrup Remix)
Ash Code – Oblivion
Virgin Prunes – Baby Turns Blue
Kælan Mikla – Hvernig Kemst Ég Upp?
Ötzi – Hold Still
Then Comes Silence – Strangers
Kite – Hand Out the Drugs
Black Angel – Alive
Lene Lovich – Lucky Number
INXS – Black and White
Kate Bush – Hounds of Love
Red Lorry Yellow Lorry – Monkey's on Juice
Gary Numan – Cars
Corpus Delicti – Saraband
Cocteau Twins – Cherry-Coloured Funk
Alien Sex Fiend – I Walk the Line
Siouxsie and the Banshees – Arabian Knights
The Wake – Christine (Re-mix 2.3 wHATEver)
The Cure – Primary
Adam and the Ants – Prince Charming
New Model Army – Space (live)

– martin oldgoth –
[Linktree]
Hante – Silence the Voices
The Flatfield – Silence
Bragolin vs. Adam Tristar – Let Out the Noise Inside
Polyverso – Deaf
Je t'Aime – The Sound
The City Gates – Le Silence
Whispering Sons – White Noise
New Model Army – Chinese Whispers
The Brains – Enjoy the Silence
Penetration – Shout Above the Noise
Adam and the Ants – Family of Noise
David Bowie – Sound and Vision
The Icicle Works – Birds Fly (Whisper to a Scream)
Black Rose Burning – Whisper (acoustic)
Duran Duran – Sound of Thunder
Wingtips – Deaf Pursuit
Kalte Nacht – Voices in Silence
Japan – Quiet Life (12″)

– George Grant (Black Rose Burning) –
Priest – Xpander
Talk to Her – Nightfall
Holygram – A Faction
Alec Empire – The Ride
Then Comes Silence – Apocalypse Flare
Agent Side Grinder – Stripdown
Ghost – Square Hammer
Dream Disciples – Antidote
Cerulean Veins – Hex Me
Bootblacks – The Jealous Star
Agent Side Grinder – Into the Wild
Wires & Lights – Drive
Holygram – She's Like the Sun
Kenna – Daylight
Covenant – Ritual Noise
Nite – Life and Love (The New Division Mix)
Apoptygma Berzerk – Disarm (Alex O. Mix)
Priest – Neuromancer
Golden Features & The Presets – Raka
Fairy Pussy – Divine
Buzz Kull – Dead Inside
Solar Fake – Hero & Conqueror
VNV Nation – Artifice
Clan of Xymox – Jasmine and Rose
Dead Cool – Send Me an Angel
Destroid – Lucretia My Reflection
Delerium – Silence (Sanctuary Mix Edit)

– Mortasha Kinski –
[Linktree]
Black Rose Burning – Black Sun Saturday
Boy Harsher – Machina (feat. Ms Boan)
Bootblacks – Nostalgia Void
Sjöblom – Telephone
Brigitte Handley | Matahari Ranch – Köln
Hammershøi – Je Te Vois
Ash Code – Drama
Hallowed Hearts – Supernova
Wires & Lights – Swimming (The Foreign Resort Remix)
Talk to Her – Truth or Lie
The Jesus and Mary Chain – All Things Pass
Interpol – Slow Hands
Actors – Cold Eyes
Then Comes Silence – Ritual (feat. Karolina Engdahl)
Nick Cave and the Bad Seeds – Deanna


– Cyberpagan –
[Linktree]
Love Like Blood – Doomsday
Murder at the Registry – Reconsider?
Kiss the Blade – Anaklit
Naturata Brutalismus – Autoignición
Kadeadkas – Angst Noise War
The Medicine Dolls – A Conscript Aiming to Miss
Hände – Krysztaɫowa Noc
Causa de Muerte – Ecos de Fuego
Date at Midnight – Traumstadt
Devoted Sinners – Over Nothing
The Timeless Valley – Elisa
Los Estafadores – Lucrecia, Mi Reflexión
undertheskin – Done
The Cure – Grinding Halt
Grundeis – Vain


– Sean Templar (Red Party NYC) –
Yentl – Papa Can You Hear Me?
Gene Loves Jezebel – 20 Killer Hurts
The Bolshoi – Looking for a Life to Lose
Flesh for Lulu – Sleeping Dogs
U2 – Stories for Boys
The Hunt – Black and White
Hypernova – Monster in Me
Gang of Four – Damaged Goods
Duran Duran – Careless Memories
The Clash – Clash City Rockers
The Damned – Nasty
The Cramps – Bend Over, I'll Drive
The Deep Eynde – Devilchild
The Bellwether Syndicate – 101 GO
Hallowed Hearts – Open Your Eyes
Killing Joke – Are You Receiving?

– DJ Miz Margo –
The Waning Moon – Talisman
Cult Strange – New World Ordeal
New Model Army – Brave New World
Tumbas – Dolor
Date at Midnight – To Fall and Forget
Detoxi – Masks
Batboner – Boogie Bat
Corpus Delicti – Lorelei
Gene Loves Jezebel – Always a Flame
Alien Sex Fiend – Nightmare Zone
Hororhaus – Ghost Host
Full of Spiders, Man! – Mine Apocalypse
Damien Hearse – Bloodsucker
Gemidos Necrofilifos – Cutún


– Naggaroth (Dead Souls Gothic Lounge) –
The Palace of Tears – Tears of the Moon
The Tears of Blood – Remorsus
Earth Calling Angela – Angela
Luna Mysti – Ultimo Paseo
Vueltas – Cadena
Ashes Fallen – Damn -Me
Chrysanthemum Ballroom – Count the Hours
Diavol Strâin – Inferno
Misery Eden – Odnakovo
NU:N – Midnight's Inertia: The Vampire's Lair Part II
L'Avenir – Soteria (live)
Harsh Symmetry – Like an Opiate
Ritual Howls – Bound by Light
The Neuro Farm – Maker
Lizzy Mercier Descloux – Sun is Shining
The Brickbats – Witch Call
The Cure – Doing the Unstuck
Beverly Hills 90210 – TV Show Theme
The Mission – Over the Hills and Far Away
Fad Gadget – Collapsing New People
Nox Novacula – Ascension
The Cure – Screw
Golden Apes – Satori
Topographies – Arch
The March Violets – Snake Dance
Bauhaus – God in an Alcove
Ariel Maniki and the Black Halos – Mirrors
Nick Cave and the Bad Seeds – City of Refuge
Alien Sex Fiend – Stuff the Turkey
Was (Not Was) – Dad I'm in Jail
Aesthetic Perfection – Never Enough
Vandal Moon – Sweet Disaster
The Foreign Resort – Dead End Roads
Then Comes Silence – Strangers
Oul – With a Fire
Blacklist – Flight of the Demoiselles
Actors – We Don't Have to Dance (Part Time Punks Session)
Children on Stun – Echoes
Killing Joke – In Cythera
Dream Disciples – Room 57
Hearts of Black Science – Icon
Neon Kross – Bewitched
The Bellwether Syndicate – Golden Age
Dead Eyes Opened – Believe
Trisomie 21 – The Last Song

– DJ Rickbats –
[Facebook | Instagram | Mixcloud]
NFD – Light My Way (Radio Edit)
Snakedance – Fall from Grace
Long Night – Tell No Tale
Gallows' Eve – Lullaby
Deep Cavity – Of Holding & Remains
Misery Eden – Woods
Fearing – I Was So Alive
Element – Hopeless Romantic
Crush Violets – Perfect Pill
The Waning Moon – Midnight to Midnight
The Wake – Hammer Hall
Götterdämmerung – Circus of the Flying Tools
Bloody Dead and Sexy – Cheeks
Cataphiles – Silenced
Decena Tragica – Mirame
The Brides – Hi!

– HATEMior –
[Instagram | Instagram]
Joy Division – The Sound of Music
Cerulean Veins – Love Won't Save Us Now
Da'at – Death in Rome
Loyal Nothing – Yours to Waste
Balzam – April's Voice
Viagra Boys – Sentinel Island
After the Sin – Kiss the Glass
Nox Novacula – Ascension
Schedule 1 – Sacred Light
Home Front – A Bit of Dust
Sky Ferriera – Voices Carry
X Marks the Pedwalk – Sunrise
Bootblacks – Inextinguishable (Mannhunter Remix)
Sinéad O'Connor – Thank You for Hearing Me
Jan Hammer – Crockett's Theme (12″)

– Scary Lady Sarah –
Zero LeCreche – Last Year's Wife
The Mission – Tower of Strength (East India Trans Cairo Mix)
Johnny Dynamite & the Bloods – Bats in the Woods
For Against – Amen Yves
Asylum Party – Julia
Girlfriends and Boyfriends – Your Touch
Traitrs – Magdalene
Gvllow – Take My Hand
Hororhaus – Ghost Host
Sequential Zero – One Day at a Time
Octavian Winters – Undertow
Lillies and Remains- Superior
The Bellwether Syndicate – Beacons
New Model Army – Stupid Questions
Cocteau Twins – Because of Whirl-Jack

– DJ Slavezero –
Red Moon Macabre – Winklepicker Logic
The Feral Ghosts – Stranger
David Bowie & Trent Reznor – I'm Afraid of Americans
Interpartysystem – American Trash
Danielle Dax – Big Hollow Man
Conformco – Demand and Supply
Hororhaus – Ghost Host
Wingtips – Deaf Pursuit
Bellhead – Unicorn Bones
The Bellwether Syndicate – We All Rise
The March Violets – Snake Dance
Tones on Tail – Go!
Broken Nails – Mirror (Remix)
New Order – The Perfect Kiss
Staci Q – Two of Hearts
Bootblacks – Brouhaha (DJslavezero and Rockin' Robert C Remix)

– Polina Y (Mutant Transmissions) –
[Patreon | Youtube]
Scarlatti Goes Electro – You Know It
Bruch – Kohlhaas
Zack Zack Zack – Bak
The Dancing Did – The Rhythm Section Sticks Together
Poison Girls – State Control
Leningrad Sandwich – Zombie Politics
Laura Krieg – Tout s'Effondre Tout Va Bien
Swans – She Lives!
Inca Babies – Opium Den
Dark Door – Deforme
Fad Gadget – Back to Nature
Det Gylne Triangel – Maskindans
Organ – Kaavakekauhu
Sickdoll & The Nuclear Shades – Das Meer ist blau
Paradox Obscur – Pollar
Xeno & Oaklander – Afar
Nini Raviolette – Suis Je Normale
Videosex – Have to Go

– DJ Poisondwarf –
Vince Ripper and the Rodent Show – New Christian Music
Miguel and the Living Dead – Killer Clowns from Outer Space
Esses – Infinite Void
Lost Tribe – Disease
Cemetery – Reptile Walk
Altar de Fey – Mercy's Kiss
Rozz Williams – Time
Skeletal Family – Trees
Siouxsie and the Banshees – Halloween
1919 – Control
The March Violets – Walk Into the Sun
Release the Bats – Unacceptable Behaviour
Sadie Sad – Pair Dog
Auto-Mod – Requiem
Madame Edwarda – The Horror Cave