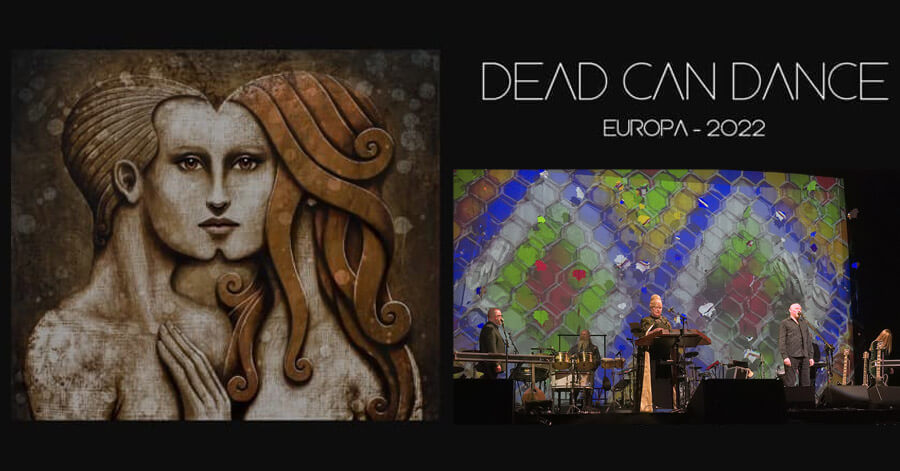 On 30 April 2022 DEAD CAN DANCE played at the Mercedes-Benz Arena in Berlin as part of their "Europe 2022" tour. This time the two keyboardists took turns as support acts, and in Berlin it was Jules Maxwell's turn (in Prague then again Astrid Williamson's). Maxwell sang some beautiful Irish-tinged songs and got the crowd into the mood.
After a break DEAD CAN DANCE followed. And as every time before, it was an almost magical-religious event. A slightly different setlist from the 2019 concert, and an apparently good atmosphere on stage – even the otherwise serene Lisa Gerrard joked around with the percussionist. Without big effects, only with background projections in changing colors, the band delivered a breathtaking and emotional show with first-class sound. Lisa Gerrard and Brendan Perry took turns singing with almost every song, which also provided variety. After 3 encore songs and about 2 hours it was over much too quickly.
Conclusion
DEAD CAN DANCE are an institution. There are few comparable bands, and probably none that can really compete with them. And so I hope for a fifth opportunity to see this exceptional band live again.
Setlist
Yulunga (Spirit Dance)
Amnesia
Mesmerism
The Ubiquitous Mr. Lovegrove
Persian Love Song (The Silver Gun)
In Power We Entrust the Love Advocated
Avatar
The Carnival Is Over
Cantara
Opium
Sanvean
Dance of the Bacchantes
Bylar
Black Sun
The Host of Seraphim
Encore:
Children of the Sun
The Wind That Shakes the Barley
Severance
Photos
Video Playlist (6 Videos):