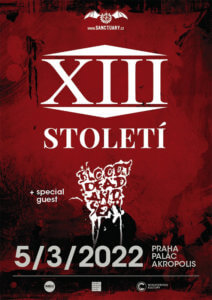 My first gig in 2022 made me go to Prague once again, to see the Czech goth legends of XIII. STOLETÍ who this year celebrate the 30th anniversary of the release of their first album "Amulet".
The almost traditional early spring gig at Palác Akropolis started with the German deathrockers BLOODY DEAD AND SEXY. I'm following them for 21 years already, and they are still as powerful as when I first saw them. It was the first time they played in Prague, and they gave the audience a great sample of old tracks like "Bloody Rose", modern classics like "Solemn Times" and also played a track from their forthcoming album "Fade to Glitter".
XIII. STOLETÍ then entered the stage to face a die-hard fanbase as always when they play here, and people sang along from start to finish. Tracks like "Amulet", "Karneval", "Justina", "Upir S Houslemi" and of course the anthem "Elizabeth" never fail to amaze – and to my German ears the Czech lyrics fit the general vampire / werewolves / mystic creatures theme very well.
Conclusion
Once again a fantastic gig of the Czech goth heroes, supported by a great German deathrock band. All this in a cool venue organised by great people – this is how it should be. I will surely be there for the next time!
Photos
Video Playlist (6 Videos):