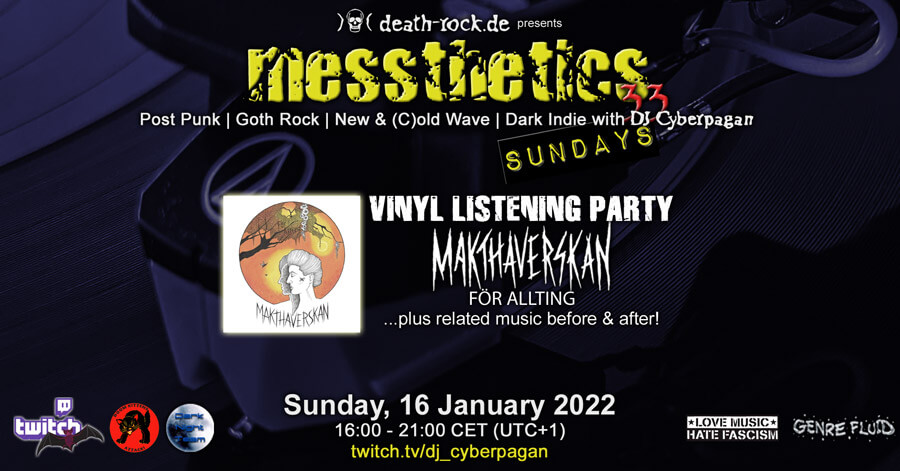 Sunday vinyl listening party this time with the album "För Allting" by MAKTHAVERSKAN.
Tracklist
Stormhat – I Den Polykrome Grusgrav
X-Ray Spex – Germfree Adolescents
Diskoteket – Steg för Steg
Makthaverskan – Drömland
Ghost Dance – Stop the World
Nightmare Air – Strange Things
The Heart Throbs – Big Commotion (Remix)
Makthaverskan – Vi var Människor från Början
The Horrors – Three Decades
It's for Us – The Closing
II. Invasion – Lager
Makthaverskan – Josef
Nicole Sabouné – Still Gone
The Primitives – Crash
The Organ – Memorize the City
Makthaverskan – In My Dreams
Ötzi – Hold Still
Winter Severity Index – The Wiser
Neon Kross – A Number's Game
Makthaverskan – Onkel
Causa de Muerte – Stranger to Stranger
Vuvuvultures – Pills Week
Vånna Inget – Vi har Makten
MAKTHAVERSKAN – FÖR ALLTING
A1 – –
A2 – This Time
A3 – Tomorrow
A4 – Lova
A5 – All I've Ever Wanted to Say
A6 – Ten Days
B1 – –
B2 – Closer
B3 – Caress
B4 – These Walls
B5 – För Allting
B6 – Maktologen
Suede – So Young
Strange Boutique – Song from Under the Floor Board
Philip Boa and the Voodooclub – Container Love (live)
Makthaverskan – Inside of Me (live)
Nehann – Star
R O M A N C E – River Runs Red (2010)
Skeletal Family – Promised Land
Makthaverskan – It's You and It's I
Desperate Journalist – Cristina
Hatestory – Lovestory
A Projection – No Light
Makthaverskan – Asleep
Then Comes Silence – Ritual (Feat. Karolina Engdahl)
Eagulls – Blume
Lovers Love Haters – Skin and Bones
Makthaverskan – Eden
Grundeis – Vain
PAST – Czarna
The Medicine Dolls – She Tastes Like Cocaine
Makthaverskan – Witness
Be Forest – Florence
Psycoco – Stay Awake
Savages – She Will
Makthaverskan – Demands
Fritz – Jan 1
Stimmen der Stille – Kämpfen
Lowline – Monitors
Makthaverskan – Vienna
True Moon – The Moon is Out
Cold in Berlin – Total Fear
Transvision Vamp – I Want Your Love
Makthaverskan – Abstinens
Epoxies – Need More Time
Paula – Ça Plane Pour Moi
Neils Children – Something You Said
Makthaverskan – Givmild
Miss T and the Japanese Tourists – Hundred Voices
Kitchens of Distinction – Railwayed
The House of Love – Shine On
Makthaverskan – Something More
Raum 41 – Arctic Sky
Dru-Amelia – Pandora
The Sugarcubes – Regina
Makthaverskan – No Mercy (Alternate Version)
Lucy Kruger & The Lost Boys – Beast (Stay Hungry)
Fever Ray – Red Trails
All About Eve – She Moves Through the Fair (Version)
Makthaverskan – To Say It as It Is
Tracks in yellow have been played from vinyl in addition to the album.
Mixcloud Player