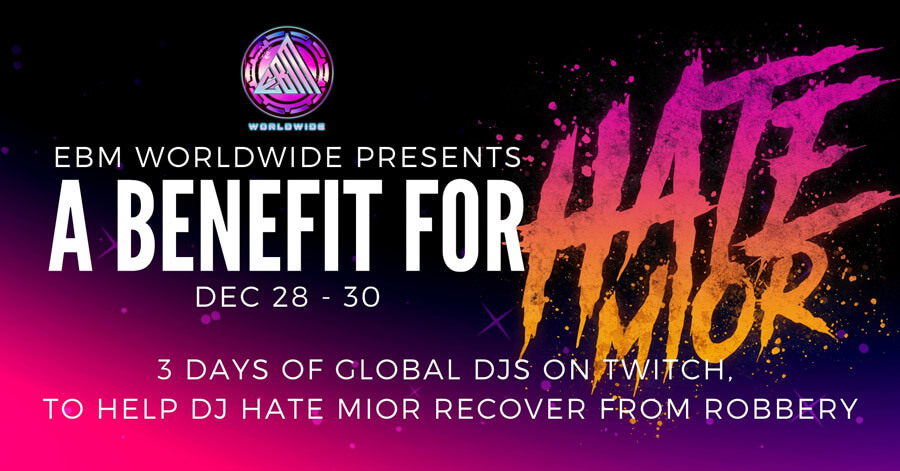 EBM Worldwide Presents – Benefit for DJ HATE Mior!
More information and donation info
DJ HATE Mior's store was broken into and since they do not have insurance, suffered great financial loss. Thank you for joining us for some awesome music, as we help to raise money to get them back on their feet.
Tracklist
28/29 December
– Ryan of Toronto –
Agnis – Sol Invictus
Ego Likeness – Burn Witch Burn (Hypofixx Remix)
In This Moment – As Above So Below
Atrocity – Satan's Braut
<PIG> – Prey & Obey (Leaether Strip Remix)
Rammstein – Pussy (Scooter Remix)
Lindemann – Praise Abort (Hedberg & Larson Remix)
Freak Injection – Daddy is the Devil
Semargl – Demon's Smile
clipping. – Body & Blood (Fabrik Nos Remix)
Attrition – The Great Derailer (Planetdamage Remix)
The Sisters of Mercy – A Rock and a Hard Place
Eurythmics – Sisters are Doin' It for Themselves
Psyence Fiction – You You Decided To Become A Dumb Goth (Shit)
Sanity Checks – Sanity Checks
Czarina – Wonderland
– Shibascream –
– The Wasteland –
Faderhead – Deal with My Pain
Moris Blak – The Violence (Wavepeak Remix)
Heartlay – Bloodright (No Way to Hide) [Moris Blak Remix]
HAEX – Daggers
Street Fever – La Corde
Spankthenun – Rotting Meat (Mind Control)
Health vs. Perturbator – Body/Prison
Houses of Heaven – Pathwork
daddybear – Little Birds
Statiqbloom – Talons Teeth
Unconscious – Oberon
Mater Suspiria Vision – Voices (Antoni Maiovvi Remix)
Antoni Maiovvi – Loose Robot
– Cyberpagan –
Intro: Camera – E-Go
Live Jimi Presley – Zombie
Body of Pain – Operate Your Heart
Love My Science – Hibernate
Naturata Brutalismus – Extremaunción
The Slits – Shoplifting
The Cure – Grinding Halt
The Medicine Dolls – Interzone
New Model Army – Vengeance
Gang of Four – Damaged Goods
Actors – How Deep is the Hole
Cockatoo – Static
Renegade Soundwave – Probably a Robbery
Gary Numan – Intruder
Killing Joke – In Cythera
Grundeis – Never Got Away
Black Rose Burning – Soul is on Fire
NU:N – Revenge
Neon – The Same Ritual
– DJ Dragnet –
Comrad – Don't Worry
Glorious Din – Voices Everywhere
Turbo Hy Dramatics – Whistling Death
The Painless Dirties – Dripping Tongue
Telkäkuller Raincoats – Kaleidoscope
The Unknown – Green Room
Bauhaus – Antonin Artaud
Soda Stereo – Te Hacen Falta Vitaminas
Ian McCulloch – White Hotel
Weeping Messerschmitts – Panthera Parvos
Communal Drop – Guilt
Rule of Thirds – Higher Forms
Nosferatu – Away (Remix)
Troubled Gardens – Hour of the Sun
Héroes del Silencio – Avalancha
– Mortasha Kinski –
Skinny Puppy – Assimilate
Actors – We Don't Have to Dance (Part Time Punks Session)
La Grazia Obliqua – Velvet 1994-2000
Ash Code – Fear (Molchat Doma Remix)
Geometric Vision – Slowemotion
Winter Severity Index – Lighting Ratio
Hapax – Giordano Bruno (live S.o.C)
Talk to Her – Forest
Talk to Her – Truth (req)
The Spiritual Bat – Thunderstorm
Date at Midnight – Cold Modern World
Les Longs Adieux – Ritratto Postumo
Kirlian Camera (feat. Eskil Simonsson) – Sky Collapse
The Birthday Massacre – Enter
Platinum Blonde – Standing in the Dark
– DJ Cyclone –
Suicide Commando – Hellraiser (Agonoize Remix)
SynthAttack – Insomnia (Dark Remix)
Boy Harsher – Come Closer
Pending Position – Starsign
Ruined Conflict – Solitude
Virgins O.R. Pigeons – People are People
Terminal Choice – Totes Fleisch
Funker Vogt – Arising Hero
Wumpscut – War
Hocico – Psychonaut
God Module – Unconscious (Funker Vogt Remix)
KMFDM – Animal Out
Sierra – Gone (Neus Remix)
Das Ich – Destillat (Club Version)
– MP3J Sark –
– Davey Bones –
Sydney Valette – Space and Time
Red Mecca – Without a House, Without a Door
Danheim – Tivar
Vandal Moon – Hurt
Paradox Obscur – Digital Law
Minuit Machine – Sisters
The KVB – Unbound
Tempers – Unfamiliar
S Y Z Y G Y X – Body Attack
NNHMN – Your Body
Bestial Mouths – In Ruins
Bedless Bones – Nemesis Unborn
Talk to Her – Set Me Free
Whispering Sons – Stalemate
Camlann – Give Me Light (Acoustic Version)
Black Rose Burning – Two Coins for the Ferryman
– DJ Marionette –
– DJ Bill Saveley –
The Young Gods – Roi du Monde
Boy Harsher – Motion
Ash Code – 1981 (Klack Remix)
Skinny Puppy – Smothered Hope
Revolting Cocks – You Often Forget
Public Relations – Eighty Eight
Technopolis – Technoid
Moev – Alibis
Stabbing Westward – Everyday is Halloween
Capricorn – I Need Love
Gesaffelstein – Glass
ohGr – Comedown
Nitzer Ebb – Lightning Man (Industry vs the Ebb Remix)
Lords of Acid – I Sit on Acid
Noise Unit – Ritualistic
Front 242 – Agressiva (12″ Version)
– DJ Ecko –
Apoptygma Berzerk – Until the End of the World (Dark Club Mix)
Eisfabrik – Back Home
VNV Nation – Precipice
Covenant – We Want Revolution
Namnambulu – Game
Seabound – Everything (EvvilKing Remix by Steril)
Star Industry – Shiver (Speed of Light Remix)
And One – Body Company (Club Hit)
Neuroticfish – Silence (Rotersand Rework)
Assemblage 23 – Bravery (Interface Remix)
Ashbury Heights – Invisible Man (Electro Remix)
Corporate Soldiers – Realize
Diorama – Advance (Rmx)
– DJ OmegaTelik + Boss Salvage –
Cable – Rosegold
Kofin – Virtual Trance State
HAEX – Erebus
Youth Code – To Burn Your World
Statiqbloom – Eight Hearts Eight Spikes (Khadija Domination Remix)
Wychdoktor – Malphas
iVardensphere – Kagu-Tsuchi
Worms of the Earth – Talisman Of Wind
This Morn' Omina – Blood Oath
Tomohiko Sagae – Cold Eyes
ESA – I Know
Ace Ventura & Juno Reactor – Ingonyama (Bliss Remix)
GMS – Overdose
Static Movement – Namaha Siva (Original Mix)
Armin van Buuren x Vini Vici – Great Spirit (Original Mix)
– DJ Starr Noir –
– spookytish –
– dj ellafine –
Batavia – Azafrán
Xibling – Yesbody
The Frozen Autumn – I Love You But I've Chosen Synthesizers
Scary Black – American Gothic
Kontravoid – Faceless
Suzi Sabotage – Nazi Goths, Fuck Off (Selfishadows Remix)
Xeno & Oaklander – Gain
Vandal Moon – No Future
Glass Apple Bonzai – The End of the World
Ghost Twin – Babes in the Woods
The Halluci Nation – Collaboration ≠ Appropriation ft. Tanya Tagaq
Saigon Blue Rain – Goodbye Horses
Qual – I Have to Return Some Video Tapes
Kibble – Literally Industrial
My Dick – Orinoco Dick
– David Bu Hau –
29/30 December
– HRH Ginsterbusch –
Galaxis – Blessed/Regret
Garth Knight – On the Run
Unitra – Parallel Memories
Arcadise – Reborn
SurgeryHead – 3D
Volkor X – Centaur
Perturbator – God Complex
Kreign -5 Layers of Chaos
Tyske Ludder Beaufort 12
Blitzmaschine – Burnout (Hardwire Remix)
Centhron – Zombie Nazi Babe
Ater Mors – Bulla
Straftanz – Finale Vollendung
Noisuf-X – Hans Dampf
E.I.D – Grabgemuese
Soman – Detail
Phosgore – Demon Core
100blumen – Grassroot Symphony
FabrikC – Wahn
NoiseX – Silent Soldier
Igorrr – Brutal Swing
D9 Bulldozer – Enhacer(d9_d9 audit)
100Blumen – The Flower They Come (Twinkle Remix)
– DJ Vamp Daddy –
Black Nail Cabaret – Bête Noire
Lebanon Hanorver – Totally Tot
Scary Black – American Gothic
Suspiria – Allegedly, Dancefloor Tragedy
Acid Horse – No Name No Slogan
Un Hombre Solo – El Mecanismo Del Ser
Selofan – Auf deiner Haut
Suzi Sabotage – Nazi Goths, Fuck Off
Angels of Liberty – Gears of the Atom Man
The Cure – One Hundred Years
A Cloud of Ravens – The Earthen Call (Actors RemixI)
My Life with the Thrill Kill Kult – Kooler Than Jesus (2020 HD Version)
Male Tears – Hit Me
Polina Y: Rue Oberkampf – Congélation
Polina Y: Driada – Horrowod (Routine)
Polina Y: Potochkine – Les Chevaux (Remix by Commuter)
Polina Y: Gris Futuro- Jardín Lunar
Polina Y: Black Asteroid – Muscle
Polina Y: Body Beat Ritual – Teethgrinder
Polina Y: Leroy Se Meurt – Corpus Rebellio
CMO: Komor Kommando – Love Your Neighbour
CMO: Kant Kino – Lrsbss
CMO: Die Robo Sapiens – Fan Fan Fanatisch (Kant Kino Rip Gd Mix)
CMO: Nitzer Ebb – Down on Your Knees (Kant Kino Mix)
CMO: Nebula-H feat. Dir – Twilight Zone
CMO: Pouppee Fabrikk – Only Control
CMO: Leaether Strip – Suicide Bombers (12″)
CMO: ELM – Kampftrinker
CMO: Front 242 – Take One (Kant Kino Remix)
CMO: Junksista – Life is Unfair (And Love is a Bitch)
CMO: AD-keY – Herz lass los
CMO: Rector Scanner – Maschinen sind treu
CMO: Reichsfeind – Persona
CMO: Zombie Girl – Creepy Crawler
CMO: The Psychic Force – Vater EBM
– DJ Dead Parrot –
The Sisters of Mercy – Heartland
The Damned – There'll Come a Day
Screams for Tina – In Her House
Fields of the Nephilim – Moonchild
Corpus Delicti – Suffragette City
The Mission – Wasteland
Gene Loves Jezebel – Twenty Killer Hurts
Suspiria – Allegedly, Dancefloor Tragedy
Traitrs – The Suffering of Spiders
Revenge of Nephthys – Take the Dark Train
Nox Novacula – Against the Wall
Rosegarden Funeral Party – Once in a While
O. Children – Ruins
– FritZ –
Dance with the Dead – Kickstart My Heart (Remix)
Huoratron – Autocannibalism
Manufactura – Dream Killers Vow to Bathe in Morpheus' Blood
Cesair – Graeica (Schwarzblut Remix)
P.A.L. – Gelöbnis (Terrorfakt Remix)
Shortparis – Strashno
Riotlegion – Out of My Head
Liebknecht – Köln
Mr. Skeleton – The Black
Mekotam feat. Pete Crane and Amelia Arsenic – Grinder
Mind Matter – Dead People
iVardensphere – Bonedance V3
This Morn' Omina – Garuda Vimana
[KRTM] – Speedboy
– Nachtraaf –
Sentinel Complex – Last Judgment
Swarm x Sentinel Complex feat. Man Ov God – Make It Out Alive
MissFit Toys – Rise to Arms (Moris Blak Remix)
Moris Blak x KALCYFR – A Touch of Malice
God Destruction – Frankenstein
Bak XIII – Rave
Alien:Nation feat. Midian Dite – Nothing for Nothing
Der Cherep – Repentance
Freakangel – My Darling Bullet (X Anniversary Edit)
Brecc – Rave Attack
2 Bullet – Drain People's Blood (Remix: Rebellion)
Die Sektor – Mother Hunger
TriS – Warcall
Biomechanimal X Sentinel Complex – Crown of Glass (Zardonic Remix)
Mechanical Vein x Saltee – All Gods Fall Down (Zardonic Remix)
Nuclear Sun – February War
– Sudeep K. –
– DJ Instant Cash –
Zeromancer – Send Me an Angel
Hatari – Spillingardans
Choke – Chain Blood
Suicide Commando – Face of Death (Blind Rage Mix)
Tactical Sekt – Awaken the Ghost (Final Awakening)
Noisuf-X – Chaos
C-Lekktor Tonight You are Mine
Freakangel – Gods Blind Game
Sidewalks and Skeletons – Destroy
Rein – Electric
Assemblage 23 – House on Fire (Antiscion Remix)
Rotersand – Merging Oceans (Neuroticfish Remix)
X-Rx – Stage 2
E-Craft – My Techno Body Whore
Centhron – Slutbutt
Surgyn – Aesthetics (Are a Moral Imperative)
– DJ Liebchen –
Seabound – Go International
Faderhead – Too Dead for Life
[Insert-Scary-Name-Here] – The Hanging Tree (Sebastian Komor Remix)
Mechanical Vein feat. Faderhead – Feel Your Noise (Moris Blak Remix)
Tarja – I Walk Alone (Sing Along!)
Anthony (H) feat. Di Auger – Your Own Enemy (Matt Hart UK Remix)
SHIV-R – Eye of the Needle (Thanosmylonas Remix)
Informatik – Revolutions
[:Sitd:] – The Devil's Tongue
Intent:Outtake – Endtime Prophets
Covenant – Tension (Club Version)
Leaether Strip – Lies To Tell (Lights of Euphoria Remix)
Laibach – Das Spiel ist aus
Modulate – Dirty Fckn Disco
32Crash – Lone Ranger (Sebastian Komor Mix)
Bruderschaft – Return (Imperative Reaction Mix)
– DJ MizMargo –
My Life with the Thrill Kill Kult – Heresy
Forever Grey – Nothing
Antiflvx – Manuscrito
Carnal Machinery – Solitudinarian
Malefixio – Vírgenes Negras
Nox Novacula – Last Will and Testament
Esses – The Source
Altar de Fey – Mercy's Kiss
Black Angel – Kiss of Death
Black Rose Burning – Antonia
European Ghost – Skeletons are Dancing
Gvllow – Misery
La Procesión de lo Infinito – Naturaleza Muerta
Lucida Fila – Crystal Virgin
Tears for the Dying – Shadows
Aurat – Shame
– DJ DARQ –
– Joyrider –
Haezer & Holly – Beasts
Toronto is Broken – Industrial
Lucille Croft – Control
Limbo Slice – Contagion
Moris Blak – Strange Eternal (In Her Hate Remix)
Tymon – Darkroom Music
Dither – This is My Hell
KALCYFR – Burn Notice
The HardWarist – Dutsjkoor
Pax Impera – Pressure (Pax Impera Remix)
Gesaffelstein – Hate or Glory
Sei2ure – Sacred Music
BRVMES – Magra
– DJ Live Evil –
Cult Of Luna, Julie Christmas & Perturbator – Cygnus (Remix)
IC3PEAK – Vacuum
The Black Queen – Secret Scream (Haex Remix)
Front Line Assembly – Mesmerized
Mechanical Vein & Faderhead – Feel Your Noise
Dance with the Dead – War
Sexual Purity – Never
Sierra – Unbroken – (Hippø & The Jacket Remix)
i_o – Not Techno
Skinny Puppy – Tin Omen
Rotersand – Exterminate Annihilate Destroy
Matt Hart – To the Core
Trick Casket – Villain
Moris Blak x KALCYFR – A Touch of Malice
X-Fusion – Stroke by Stroke
Tenebrax – Asphyxia
Lucille Croft – Control
Swarm – Take Me to Hell
Lord of the Lost – Drag Me to Hell
VNV Nation – Illusion
Siouxsie and the Banshees – Monitor
– DJ Veganinblack –
Eva X – Black Blood
Razorback Hollow feat. Steven Archer – Cold War
Strvngers – Crucifixx
VVinter Rainbow – Minotavr
Odonis Odonis – Nasty Boy
Leathers – Phantom Heart
Squid Lid – Fevered Krewe
Violentene – Divide Between Us
Double Eyelid – Woman Hanged (nTTx Remix)
Front Line Assembly – Killing Grounds
Anthony (H) – Starting Over
Dana Jean Phoenix – Living Rent Free
Conjure One – Manic Star
Ghost Twin – Become Control
– Austin Payne –
1788-L – A S T R A Y / R
1788-L x TYNAN – ABYSS
So Called – Karma
Trisekt – Retribution
Toutant – Rebirth
3LAU feat. Ninja – Game Time
Haezer x Holly – Beasts
Dash Ketchum – System Error
Clozvre – Providence
Whipped Cream – I Won't Let You Fall (feat. Finn Askew) [BRVMES Remix]
Hvdes – R U Afraid
Austin Payne – All is Lost
RL Grime – Pressure (Blanke Remix)
Lick – Over
Valentino Khan – Deathproof
Austin Payne – Hell Priest
Jacknife feat. Totto – Cult (Original Mix)
Renegade
Sneek x Darkk Matter – Crush
Zabo – Apocalypse
Ghost Data feat. Altruist – Arc Star
Howwler – Midnight
Blanke & Goldlands – Hellraiser
Hotcaller x Nexy – Damn
Carpenter Brut – Leather Teeth (Rob De Large, Ian Jury Remix)
Jauz x Netsky – Higher (Dusted by Dusty Bits)
30/31 December
– Biochili –
Balvanera – Rust
Ecko Bazz – Ntabala (Rolex Riddim) – produced by Still
REIN – Electric
NNHMN – Your Body
Roüge – Potential Danger
Moris Blak – Candyman (Warehouse Mix)
Priest – Beacon of Light
Tzusing – Circa Taipei
Sierra – All About Love
Odonis Odonis – More
Light Asylum – Pope Will Roll
Ghost Twin – Become Control
Nuovo Testamento – The Searcher
Pixel Grip – Alphapussy
woob – Altered States
Hatari – Hatrid Mun Sigra
Vexagon – Always
– DJ Mones –
3Teeth – Final Product
Aesthetic Perfection – Sex (Moris Black Remix)
And One – Sitata Tirulala
Assalm – Polarity
Brookline – Arrival (Sierra Remix)
Jvliah – Kiss of Judas
Kevorkian Death Cycle – Biophobe
Laibach – Antisemitism
Martin Gore – In a Manner of Speaking
Matt Hart – Terrorfying
Nitzer Ebb – Warsaw Ghetto
Owl Vision – Energizor
Pandoria – Crush (Rob Dust Remix)
Priest – The Pit
Probe – Tension (Boss vs Machine Remix)
The Prodigy – Funky Shit
Pablo Bozzi – Brigade Canine
Pertubator – Corrupted by Design
Aesthetic Perfection – LAX
Human Resource – Dominator (Razormaid)
LFO – LFO (Leeds Warehouse Mix)
Basszilla – Last Day on Earth
Choke Chain – Blood
Cacophoneuses – Damage Control
Depeche Mode – Tora! Tora! Tora! (Matt Pop Mix)
Faderhead – All Black Everything
Jacky Meurisse Project – Century of Love
Synthetic Form feat. Vuduvox – Latex
Tai & LeShuuk – Unicorn
Little Big – Lollybomb
Tragic Impulse – Space Force
Apoptgyma Bezerk – Major Tom
Granetic – Coma
VSB – Whore of God (Maria Mix)
Prager Handgriff – Bis an das Ende der Welt
Aghast View – Chemical Warfare
Velvet Acid Christ – Futile (Nazi Bastard Mix)
Skinny Puppy – Assimilate
Negative Format – Static
V2A – Fade to Grey
Evils Toy – Organics
Aïboforcen – E.W.I.F.
Solitary Experiminents – Paradox
Accessory – Deadline
Violet Stigmata – Brown Jenkin
Alien Produkt – Virus
DE:AD:CIBEL – Monsten Train
God Module – Where Even the Stars Shine
Penal Colony – Third Life
– Rockin' Robert C –
Health – Stonefist
Gesaffelstein – Puruit
Front 242 – Controversy Between
Skinny Puppy – Rivers
Wumpscut – Soylent Green
Nitzer Ebb – Let Your Body Learn
Covenant – Stalker (Club Version)
Assemblage 23 – Disappoint
Front Line Assembly – The Blade
Apoptgyma Berzerk – Disarm (Alex O. Mix)
Alex feat. Rachel McAlpine – Game Over
The Invincible Spirit – Push
My Life with the Thrill Kill Kult – After the Flesh
Amelia Arsenic – Queen of Risk (Kanga Mix)
– DJ Scott Durand –
Глава II – Моя любовь
Shadows and Mirrors – Becoming
Future Islands – Thrill (Electro Remix)
Pablo Bozzi – Storm in Dallas
Panther Modern – Body//Reaction
Lycia – A Failure
NZM 99 – Walkiryes Walk (Minuit Machine Remix)
Dina Summer – Who am I (Wiener Planquadrat Remix)
RXmode vs TFHats – Pact
Loct In – When It's Quiet
Vein Cramp – Without End (V_2k21)
Louisahhh – Like a Shot
Anthony (H) ft Di Auger – Your Own Enemy (Matt Hart UK Remix)
Flux – Jeune Héritier
Spasmolytic – Intravenous
– Spankthenun –
– DJ Spider –
Lo Fidelity Allstars – Battleflag (Tom Morello Remix)
VNV Nation – When is the Future
Night Club – Need You Tonight
Weird Wolves – Overdrive (Klack Remix)
Aesthetic Perfection & William Control & Nyxx – Rhythm + Control (feat. Jinxx)
Tenderlash – Inferno
I Ya Toyah – Out of Order
The Presets – My People
Cyber Axis – Can't Get You Out of My Head
Project Pitchfork – Steelrose (Apoptygma Berzerk Mix)
Czarina – Wonderland
Björk – Big Time Sensuality
Yeah Yeah Yeahs vs. Salt'n'Pepa – Roll It (Lobsterdust Mashup)
Powerman 5000 – Jump
Prince – When Doves Cry
– Cage –
New Order – Elegia (Intro Piece)
Ash Code – All We Ever Wanted was Everything
Void Visionv – One
Rue Oberkampf – Es versucht
Sierra – Unpredictable (Mascarpone Remix)
Bestial Mouths – The Loss (NNHMN Remix)
Ultra Sunn – Night is Mine (Sarin Remix)
Control I'm Here & Blood Handsome – Dancing on the Edge of a Knife
In Strict Confidence – Closing Eyes
S. Product – TNT
The Ending Nights – Reaching New Ways
Dead Astronauts – Strangers in a Room (Cult of Alia Remix)
Tenderlash – Cold Outside (Batavia Remix)
undertheskin – Wave
Boy Harsher – Modulations
– DJ Slavezero –
David Bowie – I'm Afraid of Americans
Trick Casket – Let You Die
The Insect Machine vs. Bow Ever Town feat. Silence the Machine – Set the World on Fire (MissSuicide Remix)
Matt Hart – Terrorfying (Moaan Exis Remix)
Mortiis – The Shining Lamp of God (Leather Strip Remix)
P.T.P. – Glove Seduction
Traitrs – Magdalene
Drownd – Sinner
Actors – L'Appel du Vide
Twin Tribes – Fantasmas
Then Comes Silence – Warm Like Blood
Wingtips – Deaf Pursuit
Suzi Sabotage – Nazi Goths, Fuck Off
Bootblacks – Brouhaha (DJ Slavezero & Rockin' Robert C Remix)
– niq V –
Ghost Data – Become God
Tenebrax – Code Red
Scandroid – Neo-Tokyo
Gunship – Black Sun on the Horizon (Makeup And Vanity Set Remix)
DJ Ten feat. Dead Astronauts – Show Me the Night
Absolute Valentine – Panther
Niky Nine – Cars
Le Matos – Interceptor
Power Glove – Freefall
Makeup and Vanity Set – Death Laser
Acryl Madness – Chains
No Mana feat. Chipzel – Secret Level
LukHash – Secret Level
Wired Sky – Alone
ORAX – Summer '89
Sabrepulse – Addicted 2 Love (Makeup and Vanity Set Remix)
Mecha Maiko – Phones
Essenger feat. PYLOT – Offworld
Street Fever – Gate/Failure (Un4get Edition)
Rezz & Deadmau5 – Hypnocurrency
Starcadian – Interspace
Proxy x Lektrique – Break Your Skull
Neo Fresco – Sublimation
– Acideon –
– Double Eyelid's Ian Revell –
A Number of Names – Sharevari (Instrumental)
Leaether Strip – Testure
PIG – Rock'n'Roll Refugee
Soho Dolls – Stripper
Blackstrobe – Not What You Need
Psyche – Unveiling the Secret
Strap on Halo – Monsters (Kitty Lectro Remix)
David Bowie – 'Tis a Pity She was a Whore
Colder – Blackhole Speedway
Double Eyelid – Night Prowler
Iggy Pop – Nightclubbing
Boy Harsher – Motion
Visage – Loving the Alien
New Order – State of the Nation
Detachments – Fear No Fear
She Past Away – Uzakta
Die Robot – Virtual Life (Slighter Mix)
The Pink Pearl Dragon – Word
Colder – Version
Colder – Silicone Sexy
Mount Sims – If I Can't Have You
TR/ST – Chrissy E
– DJ Eschar –
Molchat Doma – Discoteque
Стереополина – Последнее свидание
Sydney Valette – Kто болен в городе
Little Big – Skibidi
Руся – Не стій під вікном
Denis & Denis – Oaza Snova
Laibach – Geburt einer Nation
Molchat Doma – Судно (Борис Рижий)
Ploho – Прости
La Card – Jedno Zbogom za Tebe
IC3PEAK – Грустная Сука
Biokonstruktor – Bjurokrat
Кино – Группа Крови
Альянс – На заре
– DrChaossPhD –
Absolute Valentine & Powernerd – Cyber Ravage (Original Mix)
Absolute Valentine & Powernerd – Cyber Ravage (Matteo Tura Remix)
Absolute Valentine & Powernerd – Cyber Ravage (Moris Blak Remix)
Social Kid – Violet Highway – Violet Highway
Austin Payne – Hell Priest
Kloud – Take
No Etiquette – Security Breach Master
Gold Geisha – Exe (Original Mix)
Extra Terra – Blockchain (Original Mix)
Jacknife and Totto – Cult (Original Mix)
Le Castle Vania x Gigantor – Komputer Problems (Original Mix)
Swarm – Alone (Original Mix)
Moris Blak – Mandy (I'm Your God Now)
Hyper – FCKD (Original Mix)
Ahmet Abic – Hungry (Original Mix)
Fantazio and Ray3urn – Diabolus (DrChaossPhD I'm No Jedi Extended Mix)
Rezz, Grabbitz – Someone Else (Peekaboo Remix)
Dipstep – Missed Calls (Original Mix)
Kloud – Follow Me
– Xiled Radio –
Blakk Harbor – Fight for Justice
Randolph & Mortimer – Electronic Bdy Weapon 1 (Roüge Remix)
This Morn' Omina – Naous
Crystal Geometry – Krieg: Waging a War Against
Sharplines – No Will to Break
Catello Tiranno – Construction Material
Electro Synthetic Rebellion – Broken (req)
African Imperial Wizard – Mansa Moussa
Trace Amount + Qual – Ethereal Drone
Wardruna – Kvitravn
Sawtooth feat. Juliet Brownell-Lee – Crawling Toward the Light
Sonic Area feat. Les Tambours du Bronx – Gongwar
iVardensphere – Ragemaker
Eluveitie – A Rose for Epona (req)
Myrkur feat. Chelsea Wolfe – Funeral (req)
Maedon – Egregore
Molotov Lust – Let Your Body Do the Talkin' (req)
Sergeant Sawtooth – Colors Run (req)
– Daniel Belasco –
Photos