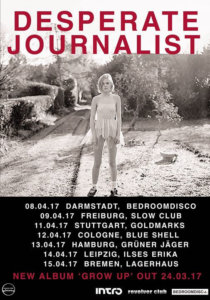 Fast genau ein Jahr, nachdem ich die beiden Bands zum ersten Mail in Berlin sehen konnte (siehe den Bericht vom 1. April 2016) gaben sich am 13. April DESPERATE JOURNALIST und PETE AT THE STARCLUB im Grünen Jäger in Hamburg die Ehre.
Vor ausverkauftem Haus begannen zunächst PETE AT THE STARCLUB, die auch etliche neue Songs im Gepäck hatten. Nachdem das Publikum ordentlich aufgeheizt wurde, betraten DESPREATE JOURNALIST die Bühne und gaben Songs vom aktuellen Album "Grow Up" sowie ältere Stücke zum Besten. Und wenn es nach dem Publikum gegangen wäre, hätten sie wohl auch noch locker eine Stunde dranhängen können. Der Funken sprang schon beim ersten Stück über und die Energie dieser jungen Band ist klasse.
Mag sein, dass dieses Jahr die letzte Chance wird, DESPERATE JOURNALIST noch auf kleinen Bühnen zu sehen, denn das Potenzial für Größeres ist definitiv vorhanden. Wer also die Gelegenheit hat – hingehen!
Fotos
Video-Playlist (6 Videos):