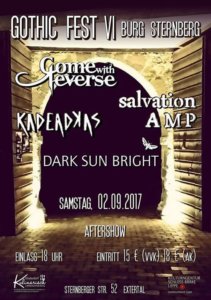 Auch in diesem Jahr gab es wieder ein GOTHIC FESTIVAL auf der schönen Burg Sternberg in der Nähe von Hameln. Und so waren am 2. September 2017 auch wieder einige empfehlenswerte Bands zu Gast – neben den Gastgebern von SALVATION AMP wie schon im Vorjahr drei weitere Acts.
Den Anfang machten DARK SUN BRIGHT aus Eckernförde mit schönem 80er-lastigen Wave-Pop, der schon zu früher Stunde die ersten Gäste zum Tanzen animierte.
Mit den KADEADKAS aus der Kölner Ecke folgte vielleicht die kommende deutsche Top-Deathrock-Band. Mit Mitgliedern von LOTUS FEED und den GHOSTS OF DAWN sind es immerhin ja auch keine Anfänger. Ich denke, man wird von dieser Band noch hören!
Die Gastgeber SALVATION AMP spielten wie üblich an vorletzter Position und boten eine Show in gewohnt allerhöchster Qualität. Auch von kommenden Album gab es ein paar Kostproben, die neugierig gemacht haben.
Band Nummer 4 waren COME WITH REVERSE aus Thessaloniki in Griechenland, die schon beim GOTHIC FESTIVAL I im Jahr 2013 dabei waren. Die Band lieferte eine emotionale und gelungene Show, und ich hoffe doch sehr, die sympathischen 3 bald wieder zu sehen.
Fazit: Wie schon 2016 war es ein schönes familiäres kleines Festival in einer umwerfenden Location – 2018 ist schon auf dem Kalender!
Fotos
Video-Playlist (8 Videos):