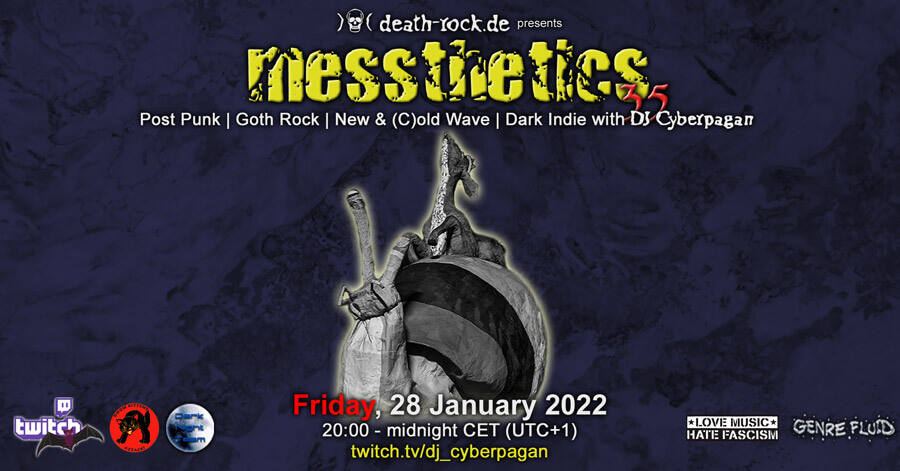 My "genre fluid" Thursday live stream DJ set, this time a day late due to an internet outage, on 28th January 2022.
Tracklist
Sigur Rós – Andvari
The Names – White Shadow
And Also the Trees – Paradiso
Kælan Mikla – Saman
Jeniferever – Concrete and Glass
Faith and the Muse – Sparks
Faith and the Muse – Running Up That Hill (req)
Bauhaus – Rosegarden Funeral of Sores
Virgin Prunes – Sweethome Under White Clouds
Then Comes Silence – The Killing Moon
Traitrs – Magdalene
Rosi – Forgotten World
Bloody Dead and Sexy – Reaping Day
XIII. Století – Katakomby
Ulterior – Too in Love to Fuck
Götterdämmerung – Good Things
Los Estafadores – Lucrecia, Mi Reflexión
Los Estafadores – Todo es Tan Vulgar (req)
Siouxsie and the Banshees – All Tomorrow's Parties (Live) (req)
Inkubus Sukkubus – The Leveller
undertheskin – Burn
October Burns Black – The Predator
Mark E Moon – Old Blood
The Rope – Lillian
Suspiria – Behind the Wheel
Minuit Machine – Empty Shell (live)
Body of Pain – Body of Pain
Boy Harsher – Give Me a Reason
The KVB – Structural Index
Linea Aspera – Event Horizon
S Y Z Y G Y X – Unknown Humanoid
Low Factor – Yellow (Version II)
GrGr – Abstand
Gary Numan – We are So Fragile (live)
The Cure – A Forest (live)
No Friends of Harry – On the Beach (live) (req)
Screaming Dead – Night Creatures
Twisted Nerve – When I'm Alone
Naturata Brutalismus – Antropoceno
Esses – Pierce the Feeling
Savages – No Face
Rosegarden Funeral Party – Justification
Soft Kill – From This Point On
S.C.U.M – Second Sea
The Soft Moon – Deeper
Einstürzende Neubauten – Installation No. 1
Einstürzende Neubauten – Weil Weil Weil (req)
Bootblacks – Southpole
Creux Lies – Contact the Fact
Night Nail – Helen
Wallenberg – Someone's Changing (Helen Part II)
Je t'Aime – Satan's Bitch
Twin Tribes – Exilo
Molchat Doma – Na Dne
Depresion Radikal – Discomania
Click Click – Sweet Stuff (Remix)
Skinny Puppy – Worlock
Tilt! – Merciless
Vaura – The Hybrid Abomination
Mueran Humanos – Festival de las Luces
Abu Nein – Dying Into a Dance
The Awakening – A Victory of Love
The Body Electric – Dash 1721
Grundeis – Never Got Away
The Chameleons – A Person Isn't Safe Anywhere These Days
Sad Lovers and Giants – Failed Love Song
David Bowie – Absolute Beginners
Associates – White Car in Germany
Fever Ray – Keep the Streets Empty for Me
Kite – Closing My Heart
Tracks in yellow have been played from vinyl.
Mixcloud Player